SSOE Group to Host 40 High School Students during Annual "Engineer for a Day" Program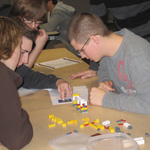 TOLEDO, Ohio, February 18, 2013 – Approximately 40 students from five area high schools will get hands-on experience from a team of engineers when they spend part of their day at SSOE's Toledo headquarters for the "Engineer for a Day" program. SSOE Group, a global EPCM firm (www.ssoe.com), and area firms are promoting entry into the engineering profession by participating in Toledo Engineer's Week, taking place February 18-22, 2013. SSOE has been a part of the Toledo community for over 60 years and has grown to be the largest engineering and architectural firm in the region.
The "Engineer for a Day" program will be held on February 20, 2013 from 1:00 until 3:30 PM. Students will attend a luncheon at The University of Toledo College of Engineering before meeting at SSOE. While there, they will have the opportunity to participate in hands-on activities, gain insight on the different engineering disciplines, and learn what it takes to become an engineer and potentially an employee of SSOE.
To kick off the program, Ed McConnell, PE and Zulema Lopez, LEED AP will lead a demonstration titled, "Let's Build a Motor". Next, Data / Fire / Security system specialist, Evan Baker, will cover the importance of fire alarm systems; discuss new security technologies, as well as provide an explanation of data center design and the inner workings of wireless networks.
The third topic of discussion will cover project management. Nate Kirwen and Brian Bergman of SSOE will introduce the students to the role of a project manager. This discussion will be followed by a team building activity featuring Legos which will allow the students to demonstrate project management principles.
The day will wrap up with additional presentations on, "What is Civil Engineering?" and "Fly with SSOE" where 3D technology and animation software will be explored. SSOE presenters will discuss their roles within the company and answer questions from students on pursuing a career in the engineering field.
During the program students will also learn about SSOE's student co-op/ internship program. This program provides college students with resume building experience, a competitive wage, and college credits. On average SSOE employs 40 co-ops / interns at any given time.
About SSOE Group
As a Top 10 Engineering / Architecture firm for the past 5 years, SSOE Group focuses on delivering Great Client Service to clients through a full range of project delivery solutions. They have been named a "Great Workplace" (Great Place to Work®) and one of the "Best AEC Firms to Work For" (Building Design + Construction).
With more than 20 offices around the world, SSOE is known for making its clients successful by saving them time, trouble, and money. Over the company's 65+ year history, it has earned a reputation for providing quality project solutions to semiconductor, automotive, food, chemical, glass, manufacturing, healthcare, power, and general building industries—with projects completed in 40 countries. Visit www.ssoe.com for additional information and career opportunities.
Media Contact:
Jenni Roder
(419) 469-1918
(419) 351-6480 cell
jroder@ssoe.com
You can follow any responses to this entry through the RSS feed. Both comments and pings are currently closed.