SSOE Group to Sponsor 4th Annual Women in STEMM (Science, Technology, Engineering, Math, and Medicine) Day of Meetings (WISDOM)
Lopez and Hoover to Host Simple Motor Workshop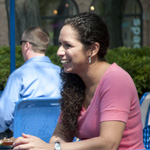 TOLEDO, Ohio, May 3, 2013 – SSOE Group (www.ssoe.com), a global engineering, procurement, and construction management (EPCM) firm, is pleased to sponsor the 4th Annual Women in STEMM Day of Meetings (WISDOM) event at The University of Toledo on Thursday, May 9, 2013.
The WISDOM event, hosted by the Northwest Ohio Chapter of the Association for Women in Science, invites young women from Toledo Public Schools, Washington Local Schools, and the Toledo Islamic Academy in their sophomore year in high school to discover the possibilities of an exciting career in science and technology. The more than 100 future engineers and scientists will explore and perform experiments in a number of areas including physics, astronomy, chemistry, biology, engineering, pharmacy, and medicine.
This one day event, which runs from 8:30 am to 2:30 pm, will be held at The University of Toledo (UT). The day will begin at UT's Student Union, where the students will perform activities developed by College of Natural Sciences and Mathematics from 9:30 am to 10:40 am. The young women will then visit the College of Engineering between 11:00 am and 11:45 am for lunch and will end the day at the UT Health Science Campus from 1:00 pm to 2:15 pm.
SSOE's Zulema Lopez, LEED® AP and Dessa Hoover, EI will be representing SSOE at WISDOM and engaging the girls in a Simple Motor Workshop. During the 45 minute workshop the students will build a motor utilizing simple materials such as insulated copper wire, small neodymium disc magnets, a D-size battery, and paperclips. The lesson will demonstrate to the students how electricity and magnetism work together to spin the motor.
In addition to SSOE, the event is sponsored by the Northwest Ohio Chapter of the Association for Women in Science, the Catharine S. Eberly Center for Women, the Toledo Chapter of the American Chemical Society, Marathon Petroleum Corporation, and the UT colleges of Engineering; Medicine and Life Sciences; Pharmacy and Pharmaceutical Sciences; and Natural Sciences and Mathematics.
According to the U.S. Department of Commerce, women are vastly underrepresented in STEMM jobs and among STEMM degree holders. That leaves an untapped opportunity to expand STEMM employment in the United States, even as there is wide agreement that the nation must do more to improve its competitiveness. For example, although women fill close to half of all jobs in the U.S. economy, they hold less than 25 percent of STEMM jobs. For this reason, SSOE is committed to supporting programs that encourage increased diversity within the STEMM fields.
About SSOE Group
As a Top 10 Engineering / Architecture firm for the past 5 years, SSOE Group focuses on delivering Great Client Service to clients through a full range of project delivery solutions. They have been named a "Great Workplace" (Great Place to Work®) and one of the "Best AEC Firms to Work For" (Building Design + Construction).
With more than 20 offices around the world, SSOE is known for making its clients successful by saving them time, trouble, and money. Over the company's 65+ year history, it has earned a reputation for providing quality project solutions to semiconductor, automotive, food, chemical, glass, manufacturing, healthcare, power, and general building industries—with projects completed in 40 countries. Visit www.ssoe.com for additional information and career opportunities.
Media Contact:
Jenni Roder
(419) 469-1918
(419) 351-6480 cell
jroder@ssoe.com
You can follow any responses to this entry through the RSS feed. Both comments and pings are currently closed.