SSOE Group to Sponsor Energy Seminar at Maumee Bay State Park
"The Evolving Energy Landscape: Practical Tips for the Present; Strategies for the Future"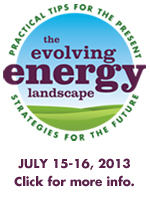 TOLEDO, Ohio, May 20, 2013 – SSOE Group (www.ssoe.com), a global engineering, procurement, and construction management (EPCM) firm, announces its sponsorship of the first annual "Evolving Energy Landscape" seminar July 15-16, 2013 at Maumee Bay State Park in Oregon, Ohio. The one and a half day seminar will deliver expert information and insights about the energy industry's complex and changing issues to arm energy users with useful knowledge to be better equipped to reach short-term energy goals and set a smart course for the future. Attendees will earn .7 continuing education hours for attending.
Featured speakers for the event include Bob D. Bessette, President of the Council of Industrial Boilers (CIBO); Marc S. Gerken, PE, President and CEO of American Municipal Power (AMP); and Dr. Robert Chase, Professor and Chair of the Department of Petroleum Engineering and Geology at Marietta College. A number of selected panelists will also provide real world insights.
To kick off the seminar, Bob Bessette will present on "Upcoming Government Regulations" which will set the stage for a day of looking at the "big picture" of where energy is headed in the future. The second day of the seminar will primarily focus on providing attendees with practical knowledge and tips for implementation to reduce and better utilize energy within their operations. Immediately following lunch, attendees are invited to participate in an optional golf outing organized by SSOE to foster networking and relationship building.
Other topics include:
The Future and Reliability of Natural Gas and Electricity Prices
Air Pollution Control Options
How Industry and Institutions are Dealing with These Issues
Combined Heat & Power (CHP) Economics and Design Considerations
Energy Efficiency and Assessment
Public / Private Partnerships; Options for Financing Energy Projects
Energy Cost and Planning / Negotiating Energy Contracts
How Data, Fire, and Security Systems Can Reduce Energy Usage and Be Leveraged to Reduce Costs While Improving Efficiency
For a full agenda, to sign up for event updates, or to register to attend visit: http://www.ssoe.com/EEL2013  
About SSOE Group
As a Top 10 Engineering / Architecture firm for the past 5 years, SSOE Group focuses on delivering Great Client Service to clients through a full range of project delivery solutions. They have been named a "Great Workplace" (Great Place to Work®) and one of the "Best AEC Firms to Work For" (Building Design + Construction).
With more than 20 offices around the world, SSOE is known for making its clients successful by saving them time, trouble, and money. Over the company's 65+ year history, it has earned a reputation for providing quality project solutions to semiconductor, automotive, food, chemical, glass, manufacturing, healthcare, power, and general building industries—with projects completed in 40 countries. Visit www.ssoe.com for additional information and career opportunities.
Media Contact:
Jenni Roder
(419) 469-1918
(419) 351-6480 cell
jroder@ssoe.com
You can follow any responses to this entry through the RSS feed. Both comments and pings are currently closed.