SSOE Group Welcomes David Schoonmaker, Senior Project Manager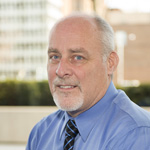 TOLEDO, Ohio, December 7, 2012 – SSOE Group (www.ssoe.com), a global architectural, engineering, procurement, and construction management (EPCM) firm welcomes David Schoonmaker as Senior Project Manager and the newest member of its Facilities Business Unit.
David has over 30 years of experience in the commercial, healthcare, laboratory, industrial and manufacturing fields with a primary focus on energy conservation and energy efficient design. His experience includes daily project supervision and guidance as well as extensive on-site practical project experience and strategic problem solving through system analyses.
"We are excited to have David join our team and are confident he will be successful serving as a primary account manager for SSOE's healthcare engineering services." said Ron Guiliani, Senior Vice President, Industrial Facilities SBU. "His extensive background and experience will allow him to further assist SSOE in meeting the complete needs of our healthcare clients."
David comes to SSOE from HT Bernsdorff, Inc. where he served as Vice President and Project Manager. While there he served healthcare and laboratory clients such as Healthcare REIT Inc., HCR ManorCare, The University of Toledo, the Puerto Rico Department of Health, and Health Care Facilities Inc. He also provided consulting services for a research and development operation in Saline, Michigan for Tecumseh Products Inc.
About SSOE Group
As a Top 10 Engineering / Architecture firm for the past 5 years, SSOE Group focuses on delivering Great Client Service to clients through a full range of project delivery solutions. They have been named a "Great Workplace" (Great Place to Work®) and one of the "Best AEC Firms to Work For" (Building Design + Construction).
With more than 20 offices around the world, SSOE is known for making its clients successful by saving them time, trouble, and money. Over the company's 65+ year history, it has earned a reputation for providing quality project solutions to semiconductor, automotive, food, chemical, glass, manufacturing, healthcare, power, and general building industries—with projects completed in 40 countries. Visit www.ssoe.com for additional information and career opportunities.
Media Contact:
Jenni Roder
(419) 469-1918
(419) 351-6480 cell
jroder@ssoe.com
You can follow any responses to this entry through the RSS feed. Both comments and pings are currently closed.