SSOE Group Welcomes New Director of Computer & Information Systems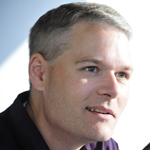 TOLEDO, Ohio, August 31, 2010 – SSOE Group (http://www.ssoe.com/), an international engineering, procurement, and construction management (EPCM) firm, is proud to welcome William "Bill" Case as Director of Computer & Information Systems (C&IS). He will succeed SSOE's current Director of C&IS, Ken Hanson, who is scheduled to retire at the official start of SSOE's performance year, October 1, 2010.
Case has over 12 years of experience as an IT Leader, 10 of those in the A/E/C industry. He comes to SSOE from Peter Basso Associates, Inc., a Mechanical, Electrical, and Plumbing (MEP) engineering firm located in Troy, Michigan. There he served as a Principal and Director of Technical Support Services. Prior to Peter Basso Associates, Case worked as Director of Information Technology for DeMattia Group, a design-build firm located in Plymouth, Michigan.
Tony Damon, President and CEO of SSOE states "SSOE is very excited to have found an outstanding leader in the IT/IS field to succeed Ken Hanson. Ken and I are both very enthusiastic about Bill's commitment to help build the Information Technology and Information Systems infrastructure that will support SSOE's domestic and international growth in the coming years."
Case recently received his Masters of Science in Information Assurance from Walsh College, Troy, Michigan. For his Capstone Project, he authored a thesis which describes risks organizations face from the use of Social Networking sites–use by employees, clients, and competitors. In this thesis, he makes the reader aware of the various risks, and offers suggestions and starting points for mitigating them. In addition, he includes several sample social networking policies and a list of useful websites for further research. Case received his Bachelor of Arts in Political Science which he obtained from the University of Michigan, Dearborn, Michigan.
About SSOE Group
As a Top 10 Engineering / Architecture firm for the past 5 years, SSOE Group focuses on delivering Great Client Service to clients through a full range of project delivery solutions. They have been named a "Great Workplace" (Great Place to Work®) and one of the "Best AEC Firms to Work For" (Building Design + Construction).
With more than 20 offices around the world, SSOE is known for making its clients successful by saving them time, trouble, and money. Over the company's 65+ year history, it has earned a reputation for providing quality project solutions to semiconductor, automotive, food, chemical, glass, manufacturing, healthcare, power, and general building industries—with projects completed in 40 countries. Visit www.ssoe.com for additional information and career opportunities.
Media Contact:
Jenni Roder
(419) 469-1918
(419) 351-6480 cell
jroder@ssoe.com
You can follow any responses to this entry through the RSS feed. Responses are currently closed, but you can trackback from your own site.