SSOE Group's Dave Mast Presents "Lean Six Sigma Organization Deployment" to the Northwest Ohio Lean Six Sigma Collaborative (NOLSSC)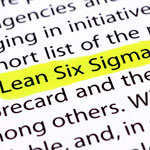 Toledo, Ohio, April 17, 2012 – SSOE Group (www.ssoe.com), an international engineering, procurement, and construction management (EPCM) firm, announced today that Dave Mast, PE, PMP will present at the Northwest Ohio Lean Six Sigma Collaborative's (NOLSSC) quarterly meeting on Tuesday, April 18th, 2012. Mast's presentation focuses on "Lean Six Sigma Organization Deployment" and includes a case study on SSOE's successful program implementation.
SSOE formally adopted Lean Six Sigma (LSS) as a problem solving methodology in 2010 and is deploying its use on continuous improvements initiatives company-wide. In his presentation, Mast outlines the continuous improvement (CI) metrics SSOE put in place and how these efforts have supported the company's goal of 5% efficiency improvements annually. Best practices for standardization of work instructions and processes will be highlighted along with SSOE's long-term goals for its LSS program and practices. Mast will outline the organizational structure for LSS roles within the company and how this strategy has translated to growth and a higher level of staff involvement in the program. As the leader of SSOE's LSS program, Mast currently serves as the overall mentor for all SSOE LSS projects and is currently working toward his "black belt" certification.
Representatives from Ford Motor Company, Lima/Allen County Paramedics, Marathon Petroleum, PRO-TEC Coating Company, SSOE, and St. Rita's Hospital will be in attendance for the NOLSSC's second quarter meeting which is open to the public.
For additional information on NOLSSC's quarterly meetings please visit: http://www.linkedin.com/groups/Northwest-Ohio-Lean-Six-Sigma-4107646
About SSOE Group
As a Top 10 Engineering / Architecture firm for the past 5 years, SSOE Group focuses on delivering Great Client Service to clients through a full range of project delivery solutions. They have been named a "Great Workplace" (Great Place to Work®) and one of the "Best AEC Firms to Work For" (Building Design + Construction).
With more than 20 offices around the world, SSOE is known for making its clients successful by saving them time, trouble, and money. Over the company's 65+ year history, it has earned a reputation for providing quality project solutions to semiconductor, automotive, food, chemical, glass, manufacturing, healthcare, power, and general building industries—with projects completed in 40 countries. Visit www.ssoe.com for additional information and career opportunities.
Media Contact:
Jenni Roder
(419) 469-1918
(419) 351-6480 cell
jroder@ssoe.com
You can follow any responses to this entry through the RSS feed. Both comments and pings are currently closed.
Tagged Lean Six Sigma