SSOE Group's Healthcare Experts to Co-Present with Client and Contractor at the International Summit and Exhibition on Health Facility Planning, Design & Construction (PDC)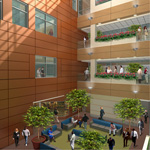 Tampa, Florida, March 2, 2011– SSOE Group, an international architectural, engineering, procurement, and construction management (EPCM) firm announced today that two of their healthcare experts have been selected to present at the International Summit and Exhibition on Health Facility Planning, Design & Construction (PDC), March 13 -16, 2011 in Tampa, Florida.
The presentation, "Replace-in-Place: Is it an Oxymoron for Planning a 21st Century Healthcare Facility?" will include a case study, presented from the point of view of the Owner, Architect and Contractor, which describes the challenges that the team faced to design a new hospital that could deliver 21st-century technology and quality as a replace-in-place facility. They will discuss how phasing is critical to a successful Replace-in-Place project and how its primary purpose is maintaining services during construction. This case study will demonstrate how plans were conceived and matured as the project was realized.
Robert Siebenaller, AIA, NCARB, LEED AP BD+C, ACHE, Healthcare Division Manager/Senior Associate, SSOE Group (http://www.ssoe.com/), Toledo, Ohio; Mike Culler, Vice President/Chief Operations Officer, Community Health and Wellness Centers (http://www.chwchospital.com/), Bryan, Ohio; Todd Goodwin, Senior Healthcare Project Manager, Weigand Construction (http://www.weigandconstruction.com/), Fort Wayne, Ind.; and Eric Murrell, RA, CCS, CSI, Project Architect/Senior Associate, SSOE Group, Troy, Mich.; are scheduled to present at 7:30a.m. on March 16, 2011.
SSOE's healthcare expertise is evident through their industry rankings. This year alone, they ranked nationally among the top healthcare design firms by Modern Healthcare, 29th among Healthcare Design Firms by Building Design + Construction, and 39th among the top 100 Green Design Firms by Engineering News Record.
For more information on this session and the 2011 International Summit and Exhibition on Health Facility Planning, Design & Construction (PDC), please visit: www.ashe.org/PDC/sessionsdetails.html#wed003
About SSOE Group
As a Top 10 Engineering / Architecture firm for the past 5 years, SSOE Group focuses on delivering Great Client Service to clients through a full range of project delivery solutions. They have been named a "Great Workplace" (Great Place to Work®) and one of the "Best AEC Firms to Work For" (Building Design + Construction).
With more than 20 offices around the world, SSOE is known for making its clients successful by saving them time, trouble, and money. Over the company's 65+ year history, it has earned a reputation for providing quality project solutions to semiconductor, automotive, food, chemical, glass, manufacturing, healthcare, power, and general building industries—with projects completed in 40 countries. Visit www.ssoe.com for additional information and career opportunities.
Media Contact:
Jenni Roder
(419) 469-1918
(419) 351-6480 cell
jroder@ssoe.com
You can follow any responses to this entry through the RSS feed. Responses are currently closed, but you can trackback from your own site.