SSOE Group's Kris Phillips Receives King Award for Architectural Scholarship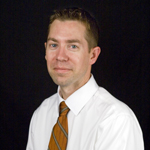 TOLEDO, Ohio, November 5, 2009 – Kris Phillips, Associate AIA, LEED AP was recently presented with the AARC / King Student Medal for Excellence in Architectural Environmental Design Research. Phillips was nominated for the award while a candidate for a Masters Degree at Lawrence Technological University. One student is chosen from each architectural school nationwide to receive this honor. The award was based on his graduate research titled "Biomiemtic Architecture – A Design Methodology Inspired by Nature."
According to Phillips, biomiemetics is "a new science in which biological organisms and natural ecosystems are observed and emulated in an effort to design systems, products, or even buildings that are innovative, efficient, optimized, and sustainable. In biomimetics, nature is regarded as a mentor who can teach better methods to solve contemporary design challenges based on eons of trial and error."
Phillips' nomination was sponsored by the late Virginia North, Assistant Dean and Professor of Graduate Studies at the University. "Her recommendation was an incredible honor. She was an innovator in our field, an amazing mentor and teacher, Phillips said. "Receiving such an award was uniquely gratifying. Her support made it even more so. Her untimely death was a personal loss; and I will miss our academic dialogue that had continued even after I completed my degree."
The award is named in honor of the late Jonathan King, co-founder and first president of the Architectural Research Centers Consortium (AARC). Selection of recipients is based on criteria that "acknowledge innovation, integrity, and scholarship in architectural and / or environmental design research."
Phillips has more than 10 years of experience in multiple building types. His design work at SSOE focuses on industrial facilities as well as sustainable solutions and LEED certification across all sectors. He is a member of the United States Green Building Council (UGBC) and also belongs to the American Institute of Architects as an associate member. He is currently serving on the board of directors for the Northwest Ohio Chapter of the USGBC.
About SSOE Group
As a Top 10 Engineering / Architecture firm for the past 5 years, SSOE Group focuses on delivering Great Client Service to clients through a full range of project delivery solutions. They have been named a "Great Workplace" (Great Place to Work®) and one of the "Best AEC Firms to Work For" (Building Design + Construction).
With more than 20 offices around the world, SSOE is known for making its clients successful by saving them time, trouble, and money. Over the company's 65+ year history, it has earned a reputation for providing quality project solutions to semiconductor, automotive, food, chemical, glass, manufacturing, healthcare, power, and general building industries—with projects completed in 40 countries. Visit www.ssoe.com for additional information and career opportunities.
Media Contact:
Jenni Roder
(419) 469-1918
(419) 351-6480 cell
jroder@ssoe.com
You can follow any responses to this entry through the RSS feed. Responses are currently closed, but you can trackback from your own site.