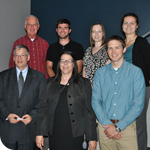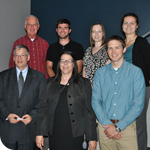 PORTLAND, Oregon, July 2, 2013 – SSOE Group (www.ssoe.com), a global engineering, procurement, and construction management (EPCM) firm, is proud to announce the election of three and the appointment of two of its employees to the newly revived Columbia Pacific Oregon Chapter of the American Institute of Chemical Engineers (AIChE). The Columbia Pacific Chapter of AIChE has been an officially recognized chapter since the late 1960's, but had fallen dormant the past several years. Interest in having a local active section for professional development in the area prompted the re-organization of the Columbia Pacific Chapter by a group of chemical engineers at SSOE, many of which were formerly involved with other AIChE sections.
The first meeting of the newly reformed chapter was held on Wednesday, June 19th at SSOE's Portland, Oregon office. During this meeting, topics of interest to the group for future meetings were discussed and elections for available chair positions were held. In total, a group of fourteen enthusiastic chemical engineers were present.
The following SSOE employees were elected or appointed into leadership positions with the chapter:
Don Morris, PE, Chemical Process Department Manager – Chairman
Kira Shevchenko, EI, Chemical Process Engineer – Vice Chair
Chris Hoff – Chemical Process Engineer, Secretary
Kendra Seniow, EIT, Chemical Process Engineer – Webmaster and Social Media
Jane Campbell, Technical Specialist – Past Chair (Advisor)
Newly elected Chairman, Don Morris, is the Chemical Process Department Manager in SSOE's Advanced Technology Business Unit. Don is excited to revive the chapter explaining "bringing a group of active and passionate chemical engineers together to foster professional relationships and shared knowledge through AIChE will not only prove valuable for our employees' professional development but will also benefit SSOE's clients who work with our talented and well-rounded chemical engineers. In addition, we hope to inspire and encourage the next generation of engineers through community outreach with local students." Don previously served as VP and President of Chemical Engineers of Oregon and Chair of Local Oregon AIChE section. He is a graduate of Oregon State University with a bachelor's degree in Chemical Engineering.
AIChE is the world's leading organization for chemical engineering professionals, with over 45,000 members from over 90 countries. AIChE strives to promote excellence in chemical engineering education and global practice as well as advance the development and exchange of relevant knowledge within the field of chemical engineering. To learn more, visit http://www.aiche.org/
https://www.ssoe.com/wp-content/uploads/2013/07/150x150_SSOE_portland-oregon-office-helps-revive-local-aiche-chapter.png
150
150
hitch
https://www.ssoe.com/wp-content/uploads/2018/05/logo_ssoe.png
hitch
2013-07-02 15:32:06
2018-07-11 16:54:22
SSOE Group's Portland, Oregon Office Helps Revive Local AIChE Chapter