SSOE Group's Troy Office Celebrates the Holidays with Sustainability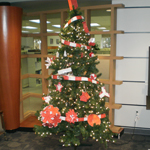 TROY, Michigan, December 22, 2009 – Leave it to a group of designers, architects and engineers to find a way to recycle old objects into something to celebrate. That's exactly what SSOE Group's Troy office did when the company altered its name and changed its logo to represent the new moniker.
With directions to stop using notebooks, business cards and anything that had the old logo on it, Troy senior designer, John Hartranft, LEED AP, took the initiative and challenged his colleagues to take their old materials and convert them to holiday ornaments. Each ornament was judged for its uniqueness. "With our new brand standards and logo in place the holiday season seemed like a perfect time to see what we could create from our outdated materials. We asked for something that was not only sustainable, but also reflective of the holiday spirit," Hartranft said. "To my delight most of the office took up the challenge."
More than half of the office's staff participated, coming up with ornaments that, in many instances, reflected origami-like creations. There were wreathes, octagonal and hexagonal shaped ornaments, and snowflakes nearly as unique as each individual one bestowed by nature this time of year. To ensure a fair vote, each ornament was tagged with a number on the back of a business card. Votes were also cast on each individual's business card, ensuring that there would be just one vote per person.
Neil Wakeman won "Best in Show" for his snowman. Honorable Mentions for "Best Traditional Ornament" went to Kathy Coon and Mohammad Emamdjomeh, for "Best in Class" Ornament to John Hartranft, "Most Bizarre" Ornament to Chris Yousif, and "Most Original" Ornament to Chris Yousif (a different ornament), "Originality in Geometric Form" to Ian McCullough and Curt Panizzoli and for "Best Small" Ornaments to Jennifer Bohn and John Hartranft. McCullough also won the "Peoples' Choice" category.
About SSOE Group
As a Top 10 Engineering / Architecture firm for the past 5 years, SSOE Group focuses on delivering Great Client Service to clients through a full range of project delivery solutions. They have been named a "Great Workplace" (Great Place to Work®) and one of the "Best AEC Firms to Work For" (Building Design + Construction).
With more than 20 offices around the world, SSOE is known for making its clients successful by saving them time, trouble, and money. Over the company's 65+ year history, it has earned a reputation for providing quality project solutions to semiconductor, automotive, food, chemical, glass, manufacturing, healthcare, power, and general building industries—with projects completed in 40 countries. Visit www.ssoe.com for additional information and career opportunities.
Media Contact:
Jenni Roder
(419) 469-1918
(419) 351-6480 cell
jroder@ssoe.com
You can follow any responses to this entry through the RSS feed. Responses are currently closed, but you can trackback from your own site.