SSOE Hires New Department Manager and Senior Project Manager for Toledo Office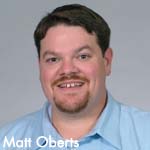 TOLEDO – July 22, 2007 – SSOE, one of the nation's largest architecture and engineering firms, continues its rapid expansion announcing two new hires for the company's headquarters in Toledo, Ohio. Appointments include Matthew Oberts as Mechanical Department Manager and Timothy Lajiness, PE as Senior Project Manager.
Matthew Oberts will lead the mechanical department of the Automotive and Industrial Facilities group. He possesses more than 12 years of experience as a chemical engineer, as well as experience in plant management and process engineering. As department manager, Oberts will be responsible for facilitating and supervising the mechanical engineering department in many facets including reviews, maintaining and approving departmental staffing and resources for each project, departmental profit and loss and ensuring the technical competency of the department is maintained.
Oberts has worked at several prestigious companies in the Detroit metropolitan area including Durr Systems Inc, Textron and the Rouge Steel Company He received a Masters of Business Administration from the Detroit College of Business in Dearborn, MI and a Bachelor of Science in Chemical Engineering from the University of Michigan in Ann Arbor, Michigan.
Timothy Lajiness, PE, Senior Project Manager for the Industrial Process, Pipeline Department, has more than 20 years of experience in the build industry as well as in design and manufacturing with a strong background in power generation and natural gas pipeline facilities. In addition to being a senior project manager, he will also serve as the pipeline sector champion and will be responsible for expanding upon the existing base of well established clientsand potential new clientsfor the pipeline industry.
Lajiness joins SSOE from TRC/Novak Engineering Inc. in Jackson, MI. He received a Bachelor of Science in Mechanical Engineering from the University of Toledo, Ohio.
About SSOE Group
As a Top 10 Engineering / Architecture firm for the past 5 years, SSOE Group focuses on delivering Great Client Service to clients through a full range of project delivery solutions. They have been named a "Great Workplace" (Great Place to Work®) and one of the "Best AEC Firms to Work For" (Building Design + Construction).
With more than 20 offices around the world, SSOE is known for making its clients successful by saving them time, trouble, and money. Over the company's 65+ year history, it has earned a reputation for providing quality project solutions to semiconductor, automotive, food, chemical, glass, manufacturing, healthcare, power, and general building industries—with projects completed in 40 countries. Visit www.ssoe.com for additional information and career opportunities.
Media Contact:
Jenni Roder
(419) 469-1918
(419) 351-6480 cell
jroder@ssoe.com
You can follow any responses to this entry through the RSS feed. Responses are currently closed, but you can trackback from your own site.