SSOE Honored by Governor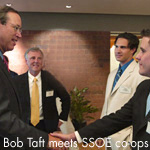 "This is a phenomenal enterprise," began Ohio Governor Bob Taft at a press conference at SSOE's office in Toledo, Ohio on July 18. "There is more work getting done here more quietly then anyplace in the entire state of Ohio. What this company does is incredible and it is a great success story. [SSOE] is a company that is investing and growing and expanding here and has an impact world wide. In fact, just this year I was very proud to present SSOE for the second year an E Award for Excellence in Exporting. They come with me on my trade missions. They are operating in China and Europe, they are operating in Mexico. They are truly a global enterprise."
Taft's appearance honored SSOE, an international full service engineering/architectural consulting firm, for their success with the program which provides fulfilling work experiences for college students who are pursuing high-tech careers in Ohio. SSOE is seeking outstanding interns who bring intellectual diversity to the firm.
Governor Taft's Third Frontier Project is the state's largest-ever commitment to expanding Ohio's high-tech research capabilities and promoting innovation and company formation to create high-paying jobs for generations to come. The Internship Program component of the Project is a three-year, $15 million initiative that utilizes federal funds from the Governor's Workforce Investment Act to create internships for Ohio students studying math, science and engineering. SSOE is one of the leading participants in the program, having employed 69 interns in the high-tech areas of advanced manufacturing, advanced materials and controls.
"SSOE has enjoyed tremendous growth over the past few years. Our offices now stretch from Toledo to Shanghai and each is growing," remarked SSOE president Tony Damon. "To fuel this growth, we need the best technical talent – the best people! Competition is fierce for both market share and talent so we are continually looking to maintain our momentum by finding the best clients and the best people. The Third Frontier Internship Program is an integral and creative part of our recruiting and employment strategy."
About SSOE Group
As a Top 10 Engineering / Architecture firm for the past 5 years, SSOE Group focuses on delivering Great Client Service to clients through a full range of project delivery solutions. They have been named a "Great Workplace" (Great Place to Work®) and one of the "Best AEC Firms to Work For" (Building Design + Construction).
With more than 20 offices around the world, SSOE is known for making its clients successful by saving them time, trouble, and money. Over the company's 65+ year history, it has earned a reputation for providing quality project solutions to semiconductor, automotive, food, chemical, glass, manufacturing, healthcare, power, and general building industries—with projects completed in 40 countries. Visit www.ssoe.com for additional information and career opportunities.
Media Contact:
Jenni Roder
(419) 469-1918
(419) 351-6480 cell
jroder@ssoe.com
You can follow any responses to this entry through the RSS feed. Responses are currently closed, but you can trackback from your own site.