SSOE Launches National Recruitment Effort for 200 Architects and Engineers to Meet Growth Initiatives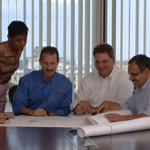 April 2 — SSOE, Inc., one of the nation's largest architecture and engineering firms, today announced the launch of a nationwide recruitment effort to hire 200 architects and engineers by the end of the year. With revenue growth topping 15 percent each of the last three years, including a 30 percent increase in 2006, SSOE is experiencing tremendous success in nearly every market it serves.
The recruiting effort is supported by the launch of SSOE's newly redesigned Web site (http://www.ssoe.com) that – in addition to enhanced content and customer resources – offers employment candidates a wealth of career information and search tools that make finding the perfect job even easier. Job seekers have access to detailed company benefit and career development information, and can easily search, view and apply online for open positions in any of SSOE's 16 offices worldwide. They can also sign up to receive automated email alerts as positions become available. There are currently openings in Arizona, California, Illinois, Michigan, Minnesota, North Carolina, Ohio, Tennessee, Texas and Washington.
"This is an exciting time to join the SSOE family," said Tony Damon, CEO of SSOE. "Our business is flourishing like never before, and we are investing heavily in people and technology that will further position SSOE as one of the most formidable architecture, engineering and design firms in the country-and eventually the world. Our global reach is expanding rapidly and that alone provides an extraordinary amount of opportunity for eager, skilled professionals that are ready to advance their careers."
"In the past 18 months we've opened six new offices across the country including an office in Phoenix and an eastern seaboard office in Durham, North Carolina," said Matt Roose, recently named SSOE recruitment specialist. "The growth we're experiencing is unprecedented and the resulting opportunities for skilled architects and engineers are vast. Specifically, we're seeing accelerated growth in our biofuels, health care, retail, science and technology, alternative energy and automotive segments."
In today's volatile economy in which many markets are struggling, SSOE offers an opportunity for stability and growth. In 2006, the company retained 94 percent of its 750 employees – 17 percent higher than the overall U.S. average. SSOE also retained 85 percent of its client base. The company is looking toward the future with plans to invest $4.45 million in technology upgrades, including software, hardware, equipment and consulting services in 2007. By 2009, 100 percent of all SSOE projects will be executed using state- of-the-art 3D/Building Information Modeling (BIM) technology.
"SSOE is a forerunner in the practical application of cutting-edge technology, which benefits not only our clients but also our employees," Roose said. "Supported by an extensive professional development and training program, our architects and engineers use the industry's latest engineering and design tools to drive creative solutions for a wide range of clients from commercial to industrial and small business to Fortune 100 companies."
Professionals seeking career opportunities at SSOE should visit http://www.ssoe.com.
.
About SSOE Group
As a Top 10 Engineering / Architecture firm for the past 5 years, SSOE Group focuses on delivering Great Client Service to clients through a full range of project delivery solutions. They have been named a "Great Workplace" (Great Place to Work®) and one of the "Best AEC Firms to Work For" (Building Design + Construction).
With more than 20 offices around the world, SSOE is known for making its clients successful by saving them time, trouble, and money. Over the company's 65+ year history, it has earned a reputation for providing quality project solutions to semiconductor, automotive, food, chemical, glass, manufacturing, healthcare, power, and general building industries—with projects completed in 40 countries. Visit www.ssoe.com for additional information and career opportunities.
Media Contact:
Jenni Roder
(419) 469-1918
(419) 351-6480 cell
jroder@ssoe.com
You can follow any responses to this entry through the RSS feed. Responses are currently closed, but you can trackback from your own site.