SSOE Named Crain's "Cool Place to Work" and Continues it's Hiring Blitz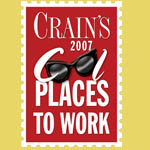 TROY, MI, September 4, 2007 – Once again in just a few short months, SSOE is being recognized as the place to be. On September 3rd Crain's Detroit Business named SSOE as a "Cool Place to Work". This honor is preceded by being named one of the nation's nine "Best AEC (Architecture, Engineering and Construction) Firms to Work For" by Building Design & Construction Magazine.
Crain's "Cool Places to Work" is a biennial award recognizing firms for their innovative work-life initiatives, talent management, communication, total rewards, corporate citizenship, work environment and recruitment activities. SSOE's industry leading profit sharing plan, training, professional development program and work-life balance initiatives including wellness coaches were all factors in why SSOE was selected for this honor.
"Receiving two awards honoring our commitment to our employees coupled with our tremendous growth and success over the past few years reinforces that we are doing something right. Our people are our company. We focus on providing the best possible workplace for our employees, who are the driving force behind all of SSOE's achievements," said Tony Damon, CEO of SSOE "And it has not gone unnoticed. We strive to give our employees balance and opportunity to advance their careers – our national and international reach is expanding rapidly and that alone provides an extraordinary amount of opportunity for eager, skilled professionals. As SSOE continues to flourish we are heavily investing in recruiting new talent to grow our expertise and deliver fresh, innovative thinking to our clients."
Since 2004, SSOE has grown significantly, including expanding its staff by 40 percent. The firm has also added nine new offices in the last 3 years in new geographic markets and its revenue growth has topped 15 percent each of those years, including a 30 percent increase in 2006 and a projected increase of 25 percent in 2007.
Earlier this year, SSOE launched a nationwide recruitment effort to hire 200 architects and engineers by the end of 2007 to assist in meeting its growth in nearly every market that it serves. SSOE has exceeded that number by hiring 270 new employees already this year and searching for 150 more by the year's end doubling the original search and bringing the overall employee count to 1,000 people.
About SSOE Group
As a Top 10 Engineering / Architecture firm for the past 5 years, SSOE Group focuses on delivering Great Client Service to clients through a full range of project delivery solutions. They have been named a "Great Workplace" (Great Place to Work®) and one of the "Best AEC Firms to Work For" (Building Design + Construction).
With more than 20 offices around the world, SSOE is known for making its clients successful by saving them time, trouble, and money. Over the company's 65+ year history, it has earned a reputation for providing quality project solutions to semiconductor, automotive, food, chemical, glass, manufacturing, healthcare, power, and general building industries—with projects completed in 40 countries. Visit www.ssoe.com for additional information and career opportunities.
Media Contact:
Jenni Roder
(419) 469-1918
(419) 351-6480 cell
jroder@ssoe.com
You can follow any responses to this entry through the RSS feed. Responses are currently closed, but you can trackback from your own site.