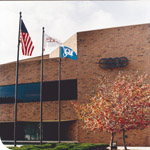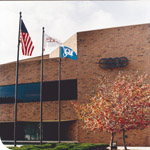 TOLEDO, OH, December 12, 2007 – SSOE, one of the nation's largest architecture and engineering firms, announced the addition of 53 new senior associates and 37 new associates in 2007. Currently, SSOE has 1,000 employees, nearly 300 of which are associates and senior associates. Over 25 percent of SSOE's associates are also shareholders, helping to influence the decisions of the firm while grooming future leaders on the principles SSOE's founding partners began 60 years ago.
"The SSOE vision is to be the company of choice by clients and employees. To accomplish this vision, we must build a sustainable and internationally recognized A/E practice. By extending ownership opportunities to the senior associate group, SSOE is providing for career growth, succession planning and wealth creation and thereby positioning SSOE so that it will thrive well into the future" said James Jaros, CPA, JD, SSOE, Inc. CFO and Senior Vice-President.
Through SSOE's Career Progression Program, principals and eligible senior associates are able to purchase stock. From the start of their employment with SSOE, each employee is given the opportunity to choose a career path that may provide an opportunity to become an owner in the company. This ownership opportunity supports SSOE's business strategy and human resource objective to attract and retain talented professionals and leaders of the company. In the last two years, 90 percent of senior associates who were eligible to purchase stock have chosen to do so, demonstrating employee commitment to SSOE and its future.
"Equity Opportunity is a powerful part of SSOE's Employment Value Proposition. Our broad ownership base is another attribute that has distinguished SSOE as an award winning "Best A/E/C Firm to Work For" and the "Employer of Choice" for nearly 1,000 talented design and support professionals. People want to work for a firm that shares its success with its employees" said Monica Dugan, SPHR, Vice President and Corporate Director of Human Resources, SSOE, Inc.
New Associates/Senior Associates by Office Location
Brentwood, TN
Barry Burgess – Senior Associate
William Fell – Senior Associate
Floyd White – Senior Associate
Jason Lowe – Senior Associate
Deborah Huff – Senior Associate
Carlsbad, CA
Ronald Gonzales – Senior Associate
Charles Landa – Senior Associate
Seog-Young Oh – Associate
Cincinnati, OH
David McClure – Associate
Downers Grove, IL
Charles Leonard – Senior Associate
Lima, OH
Gary Bias – Senior Associate
Tracy Johnson – Associate
John Stauffer – Senior Associate
Midland, MI
Brian Lamberton – Associate
Thomas Zajac — Associate
Portage, MI
Thomas VerHage – Senior Associate
Toledo, OH
Dennis Birkemeier – Senior Associate
James Bleyer – Associate
Michael Bodnar – Senior Associate
Gregory Brogley – Senior Associate
Thomas Broze – Senior Associate
Joshua Conley – Senior Associate
Nathan Czerniejewski – Senior Associate
Daniel Dionne – Associate
Michael Dumke – Senior Associate
Mohammad Emamdjomeh – Associate
Dale Feldhaus – Senior Associate
Andrew Frankowski – Associate
Ryan Fry – Associate
Bradley Galliers – Senior Associate
Michele Garbers – Associate
Mary Glowacki – Associate
Thomas Golus- Associate
Kenneth Gruenhagen – Senior Associate
Charles Hartman – Senior Associate
John Hernandez – Senior Associate
Traci Hernandez – Associate
Betsy Hurner – Associate
Timothy Inglis – Senior Associate
Rodney Johnson – Senior Associate
Eric Kadrovach – Senior Associate
Brenton Kapelski – Senior Associate
Kevin Koluch – Senior Associate
Lawrence Kowalski – Associate
Cathy Kusnier – Senior Associate
Ronald Kutcher – Senior Associate
Timothy Lajiness – Senior Associate
Dennis Leirer – Senior Associate
Jimmy Lewis – Associate
Jennifer MacLeod – Associate
Pamela Marciniak – Associate
Daniel Messinger – Senior Associate
Samuel Morris – Associate
Andrew Nestor – Senior Associate
Matthew Oberts – Senior Associate
Frank Pinero – Associate
Frank Pokornik – Associate
Dean Scheckelhoff – Associate
David Schwartz – Associate
David Semproch – Associate
Brian Spencer – Senior Associate
Dennis Stark – Associate
Joseph Taylor – Senior Associate
Ashok Thekdi – Senior Associate
Lonnie Thelen – Senior Associate
Manuel Yakumithis – Associate
Khaled Yousef – Associate
Troy, MI
John Heidt – Senior Associate
Eric Murrell – Senior Associate
Ayers Morison, Jr. – Senior Associate
Robert Sherman – Senior Associate
Sara Thompson – Associate
Phoenix, AZ
Linda Elmslie – Senior Associate
Russell Kinner – Senior Associate
Hemant Modi – Senior Associate
Jerry Scott, Jr. – Senior Associate
Raleigh/Durham, NC
Julia Booth – Associate
Preston 'Bert' Carter – Associate
James Ellard – Associate
Alan Liddy – Senior Associate
Meredith Mayes – Senior Associate
David Wilson – Senior Associate
St. Paul, MN
Tue Dzu – Associate
Mohammed Elkhateeb – Associate
Chad Kuhl – Associate
Jerome Rudie – Senior Associate
Mark Zastoupil – Senior Associate
https://www.ssoe.com/wp-content/uploads/2007/12/150x150_SSOE_90-new-associates-in-2007.png
150
150
hitch
http://www.ssoe.com/wp-content/uploads/2018/05/logo_ssoe.png
hitch
2007-12-12 15:06:52
2018-07-12 15:48:48
SSOE Names 90 New Associates in 2007 through Career Progression Program