SSOE Opens Shanghai China Office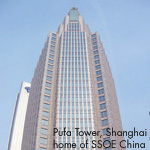 February 9, 2005 – SSOE, Inc., a recognized industry leader in providing architectural, engineering and management services to a global client-base has opened an operation in Shanghai, China. The new office will manage a variety of projects in and around China.
The Shanghai office will be led by Enzo Colonna who is an experienced international manager to diversified industrial business sectors. Mr. Colonna brings more than 32 years of consulting, architectural, engineering , process engineering and construction experience from companies like Lockwood Greene International, Philip Holzmann International, CH2M Hill / IDC and Syska & Hennessy. Mr. Colonna's accomplishments include innovative and resourceful global experience with all aspects of project implementation, corporate liaison and director of projects, as well as branch, country and area management. He has opened Middle Eastern, European, South American and Asia Pacific markets. Mr. Colonna is also fluent in several languages including English, French, Italian and Spanish.
Management capabilities and project delivery expertise are part of SSOE's versatility. Depth in design, engineering, quality and experience are characteristics of SSOE's management style. Each project begins with an intense study designed to clearly communicate project goals, parameters and constraints to all team members. This session allows SSOE to solidify and prioritize project goals, identify critical concerns and establish the framework for decision-making.
SSOE's project approach is dynamic and interactive. Team-based customer listening is the cornerstone of our project management process and the foundation for effective solutions. It invites ownership, user-group consensus and innovation that lead to successful projects for SSOE's clients.
About SSOE Group
As a Top 10 Engineering / Architecture firm for the past 5 years, SSOE Group focuses on delivering Great Client Service to clients through a full range of project delivery solutions. They have been named a "Great Workplace" (Great Place to Work®) and one of the "Best AEC Firms to Work For" (Building Design + Construction).
With more than 20 offices around the world, SSOE is known for making its clients successful by saving them time, trouble, and money. Over the company's 65+ year history, it has earned a reputation for providing quality project solutions to semiconductor, automotive, food, chemical, glass, manufacturing, healthcare, power, and general building industries—with projects completed in 40 countries. Visit www.ssoe.com for additional information and career opportunities.
Media Contact:
Jenni Roder
(419) 469-1918
(419) 351-6480 cell
jroder@ssoe.com
You can follow any responses to this entry through the RSS feed. Responses are currently closed, but you can trackback from your own site.