SSOE Places in Worldwide BIM Competition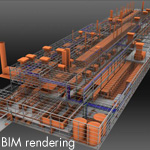 July 1, 2004 – SSOE is proud to be among one of the 164 firms nominated by Bentley Systems for their prestigious BE Awards of Excellence, which honor Bentley users and their extraordinary work improving the world's infrastructure.
The 2004 BE conference was hosted by Bentley Systems, a leading provider of software for the world's infrastructure. The BE conference is Bentley's premier professional training event with more than 400 training courses and technology updates, project presentations by Bentley users.
SSOE, Inc. and their partners were nominated in the BIM (Building Information Modeling) in architecture and engineering category for facility engineering and architectural services for two automotive paint plants, finishing in the top three of the BIM category.
David Semproch, SSOE Corporate R&D also made a presentation at the annual event.
CEO, Greg Bentley of Bentley Systems stated, "The skill, innovation, and leadership demonstrated by the BE Award Winners, and all the nominees, raises the stand ard for all of use who are dedicated to improving the world's infrastructure."
SSOE was excited to present at the national conference and be nominated for the BE Award, we also congratulate all 2004 winners and nominees.
For additional information on Bentley and the BE Awards, please visit the Bentley Systems website.
About SSOE Group
As a Top 10 Engineering / Architecture firm for the past 5 years, SSOE Group focuses on delivering Great Client Service to clients through a full range of project delivery solutions. They have been named a "Great Workplace" (Great Place to Work®) and one of the "Best AEC Firms to Work For" (Building Design + Construction).
With more than 20 offices around the world, SSOE is known for making its clients successful by saving them time, trouble, and money. Over the company's 65+ year history, it has earned a reputation for providing quality project solutions to semiconductor, automotive, food, chemical, glass, manufacturing, healthcare, power, and general building industries—with projects completed in 40 countries. Visit www.ssoe.com for additional information and career opportunities.
Media Contact:
Jenni Roder
(419) 469-1918
(419) 351-6480 cell
jroder@ssoe.com
You can follow any responses to this entry through the RSS feed. Responses are currently closed, but you can trackback from your own site.