SSOE presents "Urban Legends of Healthcare Design"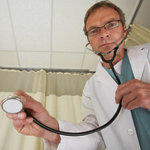 PHOENIX, March 12, 2009- With both an exhibition and a presentation, SSOE had a significant presence at the American Society for Healthcare Engineering's (ASHE) 2009 International Conference and Exhibition on Health Facility Planning, Design, and Construction (PDC) in Phoenix, Arizona. The show brought together thought leaders in healthcare engineering and architecture from around the world.
SSOE's healthcare group presented, "Urban Legends of Healthcare Design," which looked at several popular design strategies and the clinical motivations that lead to their use.
Citing specific case study examples,SSOE presented research evidence to support, or debunk the myths in popularized design intentions. Busting these myths, attendees learned the difference between design fact and design fiction, and just exactly where, when, and how design makes the critical difference. The audience was urged to closely look at design strategies – myth versus reality and the importance of evidence-based design as a critical tool for healthcare architects.
As experienced healthcare architects and engineers, SSOE designs facilities that combine optimal patient care with fiscal responsibility, integrating cutting edge medicine and efficient operations. SSOE's exhibit highlighted the company's client-based philosophy and specialties such as Building Information Modeling (BIM).
Download a PDF of the presentation and contact David Verner (dverner@ssoe.com) for additional information, or to schedule a presentation to your group.
About SSOE Group
As a Top 10 Engineering / Architecture firm for the past 5 years, SSOE Group focuses on delivering Great Client Service to clients through a full range of project delivery solutions. They have been named a "Great Workplace" (Great Place to Work®) and one of the "Best AEC Firms to Work For" (Building Design + Construction).
With more than 20 offices around the world, SSOE is known for making its clients successful by saving them time, trouble, and money. Over the company's 65+ year history, it has earned a reputation for providing quality project solutions to semiconductor, automotive, food, chemical, glass, manufacturing, healthcare, power, and general building industries—with projects completed in 40 countries. Visit www.ssoe.com for additional information and career opportunities.
Media Contact:
Jenni Roder
(419) 469-1918
(419) 351-6480 cell
jroder@ssoe.com
You can follow any responses to this entry through the RSS feed. Responses are currently closed, but you can trackback from your own site.