SSOE Receives ENR Southeast 2016 "Best Projects" Award of Merit for Purdue Pharmaceutical Manufacturing Facility
Projects Honored for Design & Construction Quality, Innovation, and Teamwork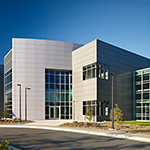 RALEIGH-DURHAM, North Carolina, January 3, 2017 – SSOE Group (www.ssoe.com), a global project delivery firm for architecture, engineering, and construction management, was recently recognized with a "Best Projects" Award of Merit from Engineering-News Record (ENR) Southeast for the design of Purdue Pharmaceutical's Oral Solid Dosage Manufacturing Facility in Durham, North Carolina. The project was recognized in the Manufacturing category and submitted in conjunction with the firm's partner on the project, general contractor BE&K Building Group.
Purdue Pharma's Oral Solid Dosage Manufacturing facility is a two-story plant totaling 182,000 SF. Production areas include a cGMP production block, support areas, and offices with 60,000 SF mezzanine / interstitial space. SSOE played a lead role in designing the project from site selection, programming, and master planning through construction administration using a highly collaborative Virtual Design and Construction (VDC) project delivery method. VDC was utilized from the onset of the project through fabrication and construction, playing a significant role in compressing the validation timeline. The team was able to identify and tag all process and facility equipment and utilities within the 3D/BIM model, creating a comprehensive platform for checks and verifications of critical components. At the conclusion of the project, SSOE and BE&K provided the 3D model to Purdue Pharma to serve as as-built information with recorded commissioning and validation efforts for future reference. Frank DeMarinis, Senior Director, Central Engineering for Purdue Pharma acknowledged the SSOE team for their performance on the project, stating "This new facility is key to our organization's strategic growth plan. The engineering and architectural services required for our technically complex manufacturing facility, including all process design and support, were developed using 3D BIM. They were detailed and extensive. In like respect, the construction services to deliver such a complex facility in both a cost effective and timely manner have been no less challenging… Complicated projects such as ours always present unique challenges – in every situation your organizations have partnered to produce timely solutions and positive results." ENR Southeast's annual "Best Projects" awards recognize the best construction and design efforts in the Southeast region of Alabama, Florida, Georgia, North Carolina, South Carolina, Tennessee, and Puerto Rico. This year, an independent panel of judges reviewed 90 projects and evaluated based on the project team's ability to overcome challenges, design and construction quality, safety record, and contribution to the industry and community. "Best Projects" were profiled in the November 2016 issues of ENR Southeast and an awards luncheon was held in Orlando, Florida on November 15th. For more information on the ENR Southeast 2016 "Best Projects", click here, or for more information on SSOE's Southeast U.S. operations visit www.ssoe.com/southeast.
About SSOE Group
As a Top 10 Engineering / Architecture firm for the past 5 years, SSOE Group focuses on delivering Great Client Service to clients through a full range of project delivery solutions. They have been named a "Great Workplace" (Great Place to Work®) and one of the "Best AEC Firms to Work For" (Building Design + Construction).
With more than 20 offices around the world, SSOE is known for making its clients successful by saving them time, trouble, and money. Over the company's 65+ year history, it has earned a reputation for providing quality project solutions to semiconductor, automotive, food, chemical, glass, manufacturing, healthcare, power, and general building industries—with projects completed in 40 countries. Visit www.ssoe.com for additional information and career opportunities.
Media Contact:
Jenni Roder
(419) 469-1918
(419) 351-6480 cell
jroder@ssoe.com
You can follow any responses to this entry through the RSS feed. Both comments and pings are currently closed.
Tagged master-planning-feature, pharmaceutical-feature, site-selection-feature, southeast