SSOE Receives Ohio Excellence in Exporting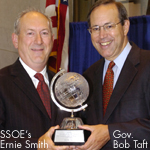 TOLEDO, OHIO — SSOE, Inc. Architects-Engineers (SSOE), an international design firm, was recognized for its success in the global marketplace by Ohio Governor Bob Taft at a luncheon held in Columbus. SSOE was one of 29 Ohio companies presented with the Governor's Excellence in Exporting Award ("E" Award).
"SSOE recognizes the importance of the global marketplace, as well as the opportunities it brings," stated Ernie Smith, Executive Vice President and Chairman of the Board of SSOE, Inc. SSOE's strategy is to develop and maintain overseas clients by utilizing and building on established relationships nurtured domestically.
SSOE has a long-standing history of serving the international market which was first served from their Toledo, Ohio headquarters over four decades ago. As a recipient of the 2002 Governor's Export Award, SSOE has since opened an office in China and Puerto Rico, won an international design competition and has doubled the size of their China location since opening their doors a little over one year ago. With the increasing amount of opportunities from our clients in China, the company expects a 50 to 75% growth within the next year.
Much of SSOE's work done on the international front is transportable back to their domestic offices and also transferable to their international locations making a 24-hour network of design solutions available to our clients. SSOE has been able to directly enhance business opportunities by sustaining and growing their business base to transcend borders.
The Governor's Excellence in Exporting Award annually recognizes Ohio companies that have increased sales and Ohio-based employment as a result of export activity, or have implemented a strategy to expand international sales.
Press Release from The Governor's Office on the Ohio Excellence in Exporting Award can be found at http://www.odod.state.oh.us/newsroom/releases/1607.asp
About SSOE Group
As a Top 10 Engineering / Architecture firm for the past 5 years, SSOE Group focuses on delivering Great Client Service to clients through a full range of project delivery solutions. They have been named a "Great Workplace" (Great Place to Work®) and one of the "Best AEC Firms to Work For" (Building Design + Construction).
With more than 20 offices around the world, SSOE is known for making its clients successful by saving them time, trouble, and money. Over the company's 65+ year history, it has earned a reputation for providing quality project solutions to semiconductor, automotive, food, chemical, glass, manufacturing, healthcare, power, and general building industries—with projects completed in 40 countries. Visit www.ssoe.com for additional information and career opportunities.
Media Contact:
Jenni Roder
(419) 469-1918
(419) 351-6480 cell
jroder@ssoe.com
You can follow any responses to this entry through the RSS feed. Responses are currently closed, but you can trackback from your own site.