SSOE Set to Exhibit at Southern Automotive Conference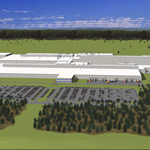 NASHVILLE TN, October 22, 2009 – SSOE Group, a global EPCM firm, will have automotive experts on hand exhibiting at the Southern Automotive Conference (SAC) October 29-30, 2009 at The Embassy Suites and Conference center in Murfreesboro, TN. The two day meeting gives those in attendance an opportunity to talk with people from all segments of the automotive industry. Original equipment suppliers (OEM), project managers, general managers, automotive suppliers and manufacturing executives are registered to attend.
Division Managers and Principals, Bob McCain and Ron Giuliani will represent SSOE at the event. According to Giuliani, the conference is expected to draw between 200-300 people. "This event gives SSOE the chance to reconnect with Original Equipment Manufacturers, as well as other leaders in the automotive and energy industries," Giuliani said. "SSOE has much to offer, with our history of success in the automotive industry and our current work designing the new Volkswagen plant in Chattanooga."
Since its inception SSOE has worked in the automotive industry. The firm was ranked third in automotive plants by Engineering News Record in 2009. SSOE has a broad portfolio of design experience in the automotive industry. SSOE designed the first Honda plant in North America. The company also designed a Honda plant in England.
"We have broad, deep technical expertise when it comes to the automotive industry. Our experienced team has consistently led the design on some of the biggest automotive projects nationally and globally," McCain said. "This conference is not only a chance to connect with our peers and clients, but it is also an opportunity to discuss the newest trends affecting automotive design today."
In addition to Volkswagen, SSOE's automotive experience in the southern U.S. includes BMW in Spartanburg South Carolina; Toyota in Texas, Mississippi, Kentucky and Tennessee; and Nissan in Tennessee. Internationally, SSOE's experience includes facilities for Ford, General Motors, Chrysler, and Honda.
The meeting features a keynote address by best-selling author Gary Harpst, whose book "Six Disciplines of Excellence," focuses on how to build a sustainable business. In addition, the conference will feature a panel of OEM executives, as well as nine workshops on technical leadership skills focusing on improving your operations and your bottom line.
About SSOE Group
As a Top 10 Engineering / Architecture firm for the past 5 years, SSOE Group focuses on delivering Great Client Service to clients through a full range of project delivery solutions. They have been named a "Great Workplace" (Great Place to Work®) and one of the "Best AEC Firms to Work For" (Building Design + Construction).
With more than 20 offices around the world, SSOE is known for making its clients successful by saving them time, trouble, and money. Over the company's 65+ year history, it has earned a reputation for providing quality project solutions to semiconductor, automotive, food, chemical, glass, manufacturing, healthcare, power, and general building industries—with projects completed in 40 countries. Visit www.ssoe.com for additional information and career opportunities.
Media Contact:
Jenni Roder
(419) 469-1918
(419) 351-6480 cell
jroder@ssoe.com
You can follow any responses to this entry through the RSS feed. Responses are currently closed, but you can trackback from your own site.