SSOE to Design 1.2 M SF BMW Assembly Plant Expansion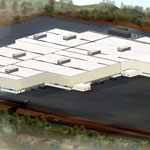 Spartanburn, SC, May 27, 2008 – SSOE one of the nation's largest architecture and engineering firms, announced that they will be providing design services for BMW's new 1.2 million SF assembly plant. SSOE will provide the detail architectural and all civil, structural, mechanical, electrical and fire protection engineering services. In an announcement on Monday March 10, BMW confirmed the expansion of the Spartanburg North Assembly Building, keeping in line with their plans to increase production capacity at its US operation from 160,000 to 240,000 automobiles annually by 2012. This expansion will allow BMW to increase their output and add 500 new jobs. Once completed, BMW will have invested $4.2 billion into its South Carolina operations since the production site opened in 1994.
SSOE is ranked 6th in Automotive Design Firms (Engineering News Record, 2007) and has performed design for 50% of all automotive assembly plants built in the US over the last ten years. This includes the Toyota Assembly Plant in Blue Springs, MS currently under construction.
Kohlbecker Architects and Engineers, from Gaggenau, Germany has been contracted by BMW and partnered with SSOE. The scope of work has been divided to leverage the expertise of both firms.
The 1.2 million SF final assembly plant will be built on BMW's existing site. Construction began in April 2008 and will be completed in July 2009, with production of the next-generation X3 Sports Activity Vehicle beginning in 2010. The building is being designed to meet the EPACT 2005 standards for "Energy Efficient Commercial Buildings". This includes increases in insulation in the walls and roof, efficient lighting systems (metal halide lights with dual level controls), high efficiency heating and cooling systems, and high efficiency hot water systems.
The Kohlbecker/SSOE team has phased the design to fast track the project by using the approach of separate rough grading, structural steel and general contracts. They are also designing the project completely in Microstation 3D which allows BMW to see and review weekly progress through the free software program NavisWorks. BMW can also use the 3D model for coordinating other tasks within the plant and interference checking for production equipment placement, routing of conveyors and other activities that are concurrent with design of the building.
Besides the X3 Sports Activity Vehicle, the Spartanburg factory also produces the X5 Sports Activity Vehicle and the new X6 Sports Activity Coupe which goes on sale later this year. In addition, BMW is also producing the Z4 Roadster and its respective variants in Spartanburg.
About SSOE Group
As a Top 10 Engineering / Architecture firm for the past 5 years, SSOE Group focuses on delivering Great Client Service to clients through a full range of project delivery solutions. They have been named a "Great Workplace" (Great Place to Work®) and one of the "Best AEC Firms to Work For" (Building Design + Construction).
With more than 20 offices around the world, SSOE is known for making its clients successful by saving them time, trouble, and money. Over the company's 65+ year history, it has earned a reputation for providing quality project solutions to semiconductor, automotive, food, chemical, glass, manufacturing, healthcare, power, and general building industries—with projects completed in 40 countries. Visit www.ssoe.com for additional information and career opportunities.
Media Contact:
Jenni Roder
(419) 469-1918
(419) 351-6480 cell
jroder@ssoe.com
You can follow any responses to this entry through the RSS feed. Responses are currently closed, but you can trackback from your own site.