SSOE's CEO and President, Tony Damon, LEED's the Way to Greener Future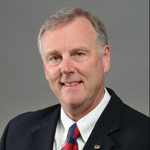 TOLEDO, Ohio – May 19, 2009 – Tony Damon, CEO and President of SSOE, practices what he preaches. As the leader of one of the nation's largest architecture and engineering firms, he is committed to continue expanding the company's green building portfolio. Now, Damon can count himself among a growing group of LEED Accredited Professionals (LEED AP) in the design industry.
Damon earned his LEED accreditation this spring. "As architects and engineers, we have a professional responsibility to our clients, and society at-large, to design energy efficient and environmentally responsible buildings and processes," Damon said. "For SSOE to continue to be recognized as a leader in our industry, we must add value to our clients' projects by giving them the opportunity to implement alternative energy solutions and green building options. Because LEED is the recognized standard for environmental and energy efficiency in the U.S., it's critical that SSOE's professionals become increasingly aware of the LEED certification requirements, process, and best practices in the industry." To that end,during the last six months more than 35 SSOE professionals have also earned their LEED accreditation.
Chris Ewald, AIA, Principal and Vice-President, is one of those who recently earned his LEED accreditation. He has put that knowledge to work on the recently completed University of Toledo's Savage Arena which is currently seeking Silver certification. "Knowing that LEED is an additional way to help clients motivated me to pursue the accreditation. It's an important piece of SSOE's philosophy to give the client total added value. As a LEED AP, I now have a comprehensive understanding of key sustainable initiatives that add value to our clients' projects in the short and long-term even if they aren't seeking LEED certification." Ewald said.
The growing number of LEED accredited professionals is in addition to a number of other sustainable projects at SSOE. In fact, SSOE was responsible for the design of the first Gold LEED certified central utility plant in the United States. More recently, SSOE created a sustainable and renewable solutions group that is solely dedicated to helping clients implement strategies that minimize energy costs and reduce their carbon footprint.
About SSOE Group
As a Top 10 Engineering / Architecture firm for the past 5 years, SSOE Group focuses on delivering Great Client Service to clients through a full range of project delivery solutions. They have been named a "Great Workplace" (Great Place to Work®) and one of the "Best AEC Firms to Work For" (Building Design + Construction).
With more than 20 offices around the world, SSOE is known for making its clients successful by saving them time, trouble, and money. Over the company's 65+ year history, it has earned a reputation for providing quality project solutions to semiconductor, automotive, food, chemical, glass, manufacturing, healthcare, power, and general building industries—with projects completed in 40 countries. Visit www.ssoe.com for additional information and career opportunities.
Media Contact:
Jenni Roder
(419) 469-1918
(419) 351-6480 cell
jroder@ssoe.com
You can follow any responses to this entry through the RSS feed. Responses are currently closed, but you can trackback from your own site.