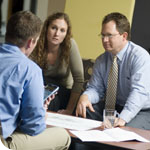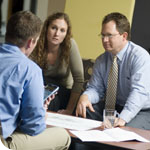 TOLEDO, OH June 4, 2008 – SSOE, Inc., one of the nation's largest architecture and engineering firms, announced that five staff members have recently earned LEED(TM) (Leadership in Energy and Environmental Design) accreditation from the U.S. Green Building Council. Mary Glowacki, AIA, NCARB, LEED AP, Associate and Senior Architect in Toledo; Linda Elmslie, PE, LEED AP, Senior Associate and Lead Project Manger in Phoenix, Arnaud Longeau, RA, LEED AP, Project Manager in Phoenix; Michael Towles, PE, LEED AP, Civil Engineer in Nashville; and Meredith Mayes, PE, LEED AP, Senior Associate and Business Leader in Raleigh-Durham have all become accredited.
SSOE designed the first Gold LEED certified building in Ohio, which was also the first Gold LEED utility facility in the US in 2006 (click here to read the article). SSOE's goals to be a leader in sustainability have resulted in over 50% of their staff having worked on alternative energy projects and in 2007, SSOE recorded more than twice the revenue it generated in the biofuels sector the previous year, with $8.1 million worth of projects. SSOE's commitment to sustainability and their continued greening is also demonstrated through the $1000 stipend awarded to each employee who becomes accredited.
"These employees' LEED accreditations will help SSOE continue to provide additional services to our clients during design of their project. By beginning the LEED review process early on during the design and planning phases, SSOE can incorporate design features that will earn LEED credits into the building design at an early stage. We are able to offer our clients more options to make their buildings more environmentally friendly, as well as lower their operating costs, even if they ultimately don't wish to formally certify their building." said David Rose, AIA, LEED AP, Vice President and Sustainable Design Leader.
By using the LEED standards, SSOE can ensure clients an immediate and measurable impact showing dramatic energy savings, reduced greenhouse gas emissions, better indoor air quality and lower operating costs. LEED certification gives a quantifiable baseline for building performance and the tools to continuously maximize operational efficiency while minimizing environmental impacts.
https://www.ssoe.com/wp-content/uploads/2008/06/150x150_SSOE_continues-greening.png
150
150
hitch
https://www.ssoe.com/wp-content/uploads/2018/05/logo_ssoe.png
hitch
2008-06-04 14:56:26
2018-07-12 15:39:24
SSOE's Continues its 'Greening' with Five Staff Members Earning LEED Accreditation