SSOE's New Service Helps Companies React to the Rapidly Shifting Economic and Global Climate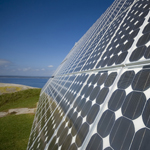 TOLEDO, OH, February 22, 2009 – In response to the shifting economic and cultural climate, SSOE, one of the nation's largest architecture and engineering firms, has introduced a new service that gives companies the opportunity to reduce costs, while also benefitting the environment. Called Sustainable and Renewable Solutions (SRS), SSOE's new initiative packages a number of existing services. SRS helps clients sort through the maze of opportunities involving sustainability, energy efficiency and renewable energy utilizing both long and short-term strategies.
For many companies, facilities, and the operations that occupy those facilities, not only make up a large percentage of the operating budget, they also make up the majority of a company's environmental impact. In fact, according to statistics published by the USGBC*, facilities make up 38 percent of CO2 emissions in the United States—more than vehicle emissions.
SSOE's sustainable and renewable services help reduce this percentage by offering companies the tools they need to reduce their environmental footprint and improve their balance sheet. Looking at short-term and long-term strategies, SSOE creates a "sustainable master plan" to reduce cost and environmental impact. This plan includes elements such as energy and water usage audits in existing facilities to decrease short-term expenditures. It also encompasses elements with longer payback times such as the sustainable design of new facilities, sustainable site planning, and the adoption of alternative energy sources.
"By looking at these elements holistically, companies get a more accurate picture of their costs and associated benefits," says Jerry Carter Business Leader for Sustainable and Renewable Solutions at SSOE. "Our approach provides a simplified phased plan that clients can use as a roadmap to achieve their sustainability objectives."
For short-term cost reduction and immediate environmental impact, SSOE offers a number of services, such as energy audits. "Many times, a simple walk-through of an existing facility reveals opportunities for high ROI projects that both reduce energy or water usage and also have a tremendous environmental impact." says Carter. In industrial settings, these projects often involve the reuse of waste heat from an existing process and can be implemented with very little downtime. Pay-back periods for these energy efficiency projects are often less than two years. Through this service alone, SSOE has identified and implemented numerous projects, each resulting in hundreds of thousands of dollars in annual savings for their clients.
In addition to identifying short-term cost reduction opportunities, there are also a number of long-term strategies for companies to evaluate. These include a myriad of alternative energy sources for clients to sort through such as wind, solar, geothermal, and biomass.
Carter explains, "In some areas, the cost of electricity is rising at a rate of five percent a year. At the same time, most experts believe that the cost of alternative energy technologies such as solar will decrease dramatically in coming years based on a sudden surge in availability in the supply chain. In addition, the recently passed stimulus bill includes added incentives for companies that use alternative energy sources such as wind. "SSOE's experts take this ever-shifting landscape of alternatives into account and incorporate them into a flexible plan that allows companies to prepare for the long-term.
Focusing on sustainability is not new to SSOE. More than 50 percent of SSOE's employees have worked on a project in the alternative energy sector in the last year. Additionally, SSOE designed the first Gold LEED® Certified central utility plant in the U.S. Carter states, "With our clients looking for smart ways to cut costs without impacting quality, it simply made sense to begin offering these services as part of a more holistic, strategic package."
About SSOE Group
As a Top 10 Engineering / Architecture firm for the past 5 years, SSOE Group focuses on delivering Great Client Service to clients through a full range of project delivery solutions. They have been named a "Great Workplace" (Great Place to Work®) and one of the "Best AEC Firms to Work For" (Building Design + Construction).
With more than 20 offices around the world, SSOE is known for making its clients successful by saving them time, trouble, and money. Over the company's 65+ year history, it has earned a reputation for providing quality project solutions to semiconductor, automotive, food, chemical, glass, manufacturing, healthcare, power, and general building industries—with projects completed in 40 countries. Visit www.ssoe.com for additional information and career opportunities.
Media Contact:
Jenni Roder
(419) 469-1918
(419) 351-6480 cell
jroder@ssoe.com
You can follow any responses to this entry through the RSS feed. Responses are currently closed, but you can trackback from your own site.