SSOE's Portage, Michigan Business Leader and Senior Project Manager Earn Project Management Professional Certifications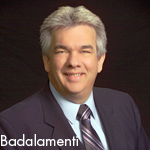 PORTAGE, Michigan, July 02, 2009 – SSOE Business Leader, Joe Badalamenti and Senior Project Manager, Jim Swope have earned their certification as Project Management Professionals (PMP). SSOE is one of the nation's largest architectural and engineering firms. The PMP is awarded by the Project Management Institute (PMI) and means that Badalamenti and Swope possess the knowledge and skill necessary to lead and direct project teams, as well as deliver project results within the constraints of schedule, budget, and resources.
Joe Badalamenti, PE, PMP, Senior Project Manager and Senior Associate, has nearly 25 years of professional experience. His expertise includes plant layout, mechanical utilities, process and pumping systems in the food and beverage industry. Also as the Business Leader for SSOE's Portage office, he is responsible for hiring and development of staff as well as office growth.
Badalamenti received his Master's of Science Degree in Mechanical Engineering from the University of Dayton and his Bachelor's of Science Degree in Mechanical Engineering from Michigan Technological University. He is a registered Mechanical Engineer in six states.
Jim Swope, PMP, Senior Project Manager, has nearly three decades of professional experience. He is responsible for leading key team members throughout the duration of multi-discipline food and beverage projects. His responsibilities include primary contact for all management functions such as project planning, control procedures, and monitoring progress while maintaining the overall knowledge of the technical content of the project.
About SSOE Group
As a Top 10 Engineering / Architecture firm for the past 5 years, SSOE Group focuses on delivering Great Client Service to clients through a full range of project delivery solutions. They have been named a "Great Workplace" (Great Place to Work®) and one of the "Best AEC Firms to Work For" (Building Design + Construction).
With more than 20 offices around the world, SSOE is known for making its clients successful by saving them time, trouble, and money. Over the company's 65+ year history, it has earned a reputation for providing quality project solutions to semiconductor, automotive, food, chemical, glass, manufacturing, healthcare, power, and general building industries—with projects completed in 40 countries. Visit www.ssoe.com for additional information and career opportunities.
Media Contact:
Jenni Roder
(419) 469-1918
(419) 351-6480 cell
jroder@ssoe.com
You can follow any responses to this entry through the RSS feed. Responses are currently closed, but you can trackback from your own site.