St. John's Jesuit High School and Notre Dame Academy Students to Shadow at SSOE Group
Students gain real-world experience in architecture, engineering, and construction management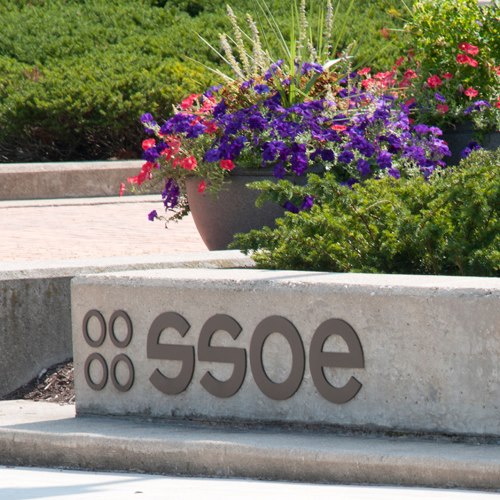 TOLEDO, Ohio, May 6, 2013 – A group of students from two area high schools will have the opportunity to work with architects, engineers, and construction managers at SSOE Group (www.ssoe.com), a global engineering, procurement, and construction management (EPCM) firm, during the week of May 6th, 2013. Developed in response to local high schools' requirement for senior students to take part in a shadow program at the end of their senior year, the Student Shadow program aims to provide students with real-world exposure to the fields they are interested in pursuing. SSOE has hosted and participated in the Student Shadow Program for more than ten years.
During the week, students from St. John's Jesuit High School and Notre Dame Academy will be exposed to a full range of architecture, engineering, and construction management disciplines. Each day will focus on one to two disciplines and include presentations, hands-on activities, and an opportunity for the students to engage and interact with members of the SSOE team.
Day one kicks off with an overview of the mechanical and chemical engineering disciplines from engineering staff Dennis Leirer and Lindsey Wenzke. Immediately following, Denese Adams, HR Diversity Specialist and Student Shadow program coordinator will lead a workshop on resume writing and career development. Day two begins with an introduction to construction management by Dan Vining, General Manager of Construction Management. An afternoon discussion on Computer & Information Systems (C&IS) by Jim Treece, Manager, Design Technology, will explore the many newest facets of computer-aided design. Students will hear from Ed McConnell, Master Engineer, on day three and participate in a hands-on demonstration geared toward electrical engineering. As part of this day's events, SSOE's electrical department will hold a lunch meet and greet with the students. On day four, Master Architect, Louise Schlatter will introduce the students to the role of an architect. The week will wrap up with a day on civil and structural engineering led by Master Engineers Jim Breznai and Tim Butler. They will discuss their roles within the company and answer questions from students interested in pursuing a career in their respective fields.
Since its founding in 1948, SSOE has believed in sharing the advantages of their success in the communities in which they work, especially in areas where they can encourage the next generation's interest in math and sciences. This has been accomplished through programs, volunteering, and financial support. To learn more, visit www.ssoe.com/about-us/corporate-social-responsibility.
About SSOE Group
As a Top 10 Engineering / Architecture firm for the past 5 years, SSOE Group focuses on delivering Great Client Service to clients through a full range of project delivery solutions. They have been named a "Great Workplace" (Great Place to Work®) and one of the "Best AEC Firms to Work For" (Building Design + Construction).
With more than 20 offices around the world, SSOE is known for making its clients successful by saving them time, trouble, and money. Over the company's 65+ year history, it has earned a reputation for providing quality project solutions to semiconductor, automotive, food, chemical, glass, manufacturing, healthcare, power, and general building industries—with projects completed in 40 countries. Visit www.ssoe.com for additional information and career opportunities.
Media Contact:
Jenni Roder
(419) 469-1918
(419) 351-6480 cell
jroder@ssoe.com
You can follow any responses to this entry through the RSS feed. Both comments and pings are currently closed.