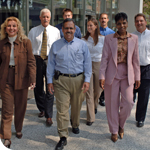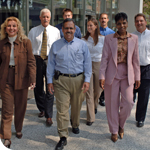 Adding Seven New Owners to the Corporation SSOE, Inc., an international architectural and engineering firm, is expanding the reach of their ownership structure by adding seven new principals and giving more than 15% of their regular full time employees a chance to own a piece of the company stock. As a result, SSOE's owners are more diverse and the new structure directly rewards and motivates improved performance among the staff.
"The organizational realignment will serve as a stronger platform to drive future growth initiatives," stated Tony Damon, President and CEO. "Overall staff levels have grown by over 35% in the past three years and we have added five new offices bringing our total to 14 offices. We believe that our realignment will continue to support SSOE's strategic growth plans and allow us to build customer, shareholder and staff value by more efficiently allocating people and resources."
The organizational realignment includes the addition of seven new principals to SSOE's management team including Vince DiPofi, Jr., Monica Dugan, Jim Jaros, Catherine Malicki, David Rose, Eduard Royzman and Enzo Colonna.
Vincent DiPofi, Jr., PE, Manager of the Food, Pharmaceutical and Personal Care Business Unit, is a licensed engineer and manages overall operations for offices in Toledo, Lima and Cincinnati, Ohio; Kalamazoo, Michigan; and St. Paul, Minnesota. Mr. DiPofi is a graduate of The University of Toledo and has a BS in Mechanical Engineering. He has over 25 years of professional experience and has been with SSOE six years.
Monica Dugan, SPHR, Corporate Director of Human Resources is a Senior Professional in Human Resources, attaining a lifetime certification from the Human Resources Certification Institute (HRCI). Ms. Dugan received a BA in Writing and Communications, and a Certificate in Personnel and Industrial Relations from the University of Pittsburgh. She is a member of the Society of Human Resource Management (SHRM) and serves on the Board of Directors of the Employers' Association. She has been with SSOE for 18 years.
Jim Jaros, Senior Vice President and Corporate Director of Finance, is a Certified Public Accountant and attorney licensed in Michigan and Ohio. Mr. Jaros joined SSOE in 2001 with a vast array of domestic and international business experience. He holds a BS in Accounting from Bowling Green State University and a Juris Doctor Degree from The University of Toledo College of Law. He is a member of the Ohio Society of CPA's as well as the American, Michigan, Ohio and Toledo Bar Associations.
Catherine Malicki joined SSOE as Director of Corporate Marketing in 2005. She is leading SSOE's marketing, communication and branding initiatives. Prior to joining SSOE, Ms. Malicki was Director of Marketing for a leading Midwest construction management, architecture and real estate development firm. She has 18 years of professional experience. Ms. Malicki has a BA in Graphic Communication from the University of Toledo and studied marketing and graphic design at the University of Tennessee. She is a current member and immediate past board member of Commercial Real Estate Group (CREW-Detroit), and board member of the University of Michigan/Urban Land Institute Real Estate Forum.
David Rose, AIA, is Division Manager of the Commercial Institutional Group in Toledo, Ohio and Troy, Michigan. He is a licensed architect with over 28 years of professional experience. Mr. Rose has a Master of Architecture degree from the University of Michigan and BS in Architecture from the University of Kansas. Mr. Rose has been with SSOE for five years and is a LEED Accredited Professional.
Eduard Royzman, PE, is Business Leader of SSOE's Washington, DC office and is a licensed engineer in 10 states. Mr. Royzman is a graduate of Kiev Engineering College in Ukraine and has over 35 years of professional experience. He opened SSOE's Washington, DC office over a year ago and has established contracts with The University of South Carolina, Clemson University and a nationwide contract with the US EPA.
Enzo Colonna, Principal and Business Leader of SSOE China Co., Ltd., a subsidiary of SSOE located in Shanghai, China, has successfully led the international office for over a year. Mr. Colonna is an experienced international manager having more than 32 years of consulting experience. SSOE China's recent contracts include clients like International Textile Group and Owens Corning.
https://www.ssoe.com/wp-content/uploads/2007/03/150x150_SSOE_strategic-business-realignment.png
150
150
hitch
http://www.ssoe.com/wp-content/uploads/2018/05/logo_ssoe.png
hitch
2007-03-15 15:37:15
2018-07-12 16:10:37
Strategic Business Realignment