Tallahassee Memorial Cancer Center Complete, Currently Pursuing LEED Certification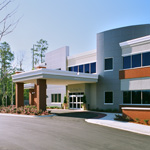 Tallahassee, Florida, March 07, 2011 – SSOE Group (www.ssoe.com), an international architectural, engineering, procurement, and construction management (EPCM) firm, is proud to announce the completion of a new $12 million full-service cancer center. This freestanding facility spans two floors and is situated on a 4.9-acre site owned by an affiliate of Tallahassee Memorial Healthcare (TMH). Real estate investor Health Care REIT (www.hcreit.com) owns and developed the center.
SSOE provided planning and design services for this 52,000 SF facility. Encompassing approximately 30,000 SF, the first floor contains a Radiation Oncology Suite and common area. Central to the design is the large first-floor common / waiting area, which features a coffee shop, lounge-style seating, and other amenities that create a relaxing, comfortable space for patients and families.
The second floor will house a 12,000-SF medical oncology suite with the remaining second-floor space divided to include additional oncology specialties. During off-hours, the building will be used for patient / family education activities.
Unique features of the property's green space include a healing garden, which will include a walking path. In keeping with the green theme, sustainable design principles were implemented.
SSOE is currently pursuing LEED® certification for this project on behalf of the client. Level of certification tracking is Silver.
SSOE's healthcare expertise is evident through their industry rankings. This year alone, they ranked nationally among the top healthcare design firms by Modern Healthcare, 29th among Healthcare Design Firms by Building Design + Construction, and 39th among the top 100 Green Design Firms by Engineering News Record.
SSOE was awarded the project in June 2009. Robins & Morton (www.robinsmorton.com) served as the general contractor for the project. Mass site clearing started in November 2009 with construction beginning February 2010.
About SSOE Group
As a Top 10 Engineering / Architecture firm for the past 5 years, SSOE Group focuses on delivering Great Client Service to clients through a full range of project delivery solutions. They have been named a "Great Workplace" (Great Place to Work®) and one of the "Best AEC Firms to Work For" (Building Design + Construction).
With more than 20 offices around the world, SSOE is known for making its clients successful by saving them time, trouble, and money. Over the company's 65+ year history, it has earned a reputation for providing quality project solutions to semiconductor, automotive, food, chemical, glass, manufacturing, healthcare, power, and general building industries—with projects completed in 40 countries. Visit www.ssoe.com for additional information and career opportunities.
Media Contact:
Jenni Roder
(419) 469-1918
(419) 351-6480 cell
jroder@ssoe.com
You can follow any responses to this entry through the RSS feed. Responses are currently closed, but you can trackback from your own site.
Tagged healthcare-feature