Two Day Meeting March 26 & 27 in Dublin, Ohio Connects SSOE with Ohio Gas Companies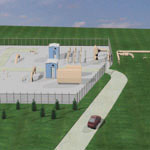 TOLEDO, OHIO, MARCH 10, 2009 – Representatives from the Toledo and Columbus Offices of SSOE, Inc., will attend the Ohio Gas Association Technical Seminar as exhibitors on March 26 and 27, 2009 at the Marriot Hotel, Northwest in Dublin, Ohio.
The two day meeting brings together a wide spectrum of vendors with gas companies from across Ohio. Scott Hathaway will attend from SSOE's Columbus office along with Tim Lajiness from the Toledo office. Lajiness, Business Leader and Department Manager for SSOE's pipeline group describes the meeting as an "excellent means for engineers and other vendors such as equipment manufacturers, to review advances made in the industry during the past year."
The morning sessions are dedicated to a continuous education effort, with the afternoon devoted to time for vendors to meet with representatives from Ohio's gas transmission and distribution companies.
SSOE has worked on gas pipeline projects for more than two decades, completing more than 1,000 projects. "We have industry experts that have designed pipelines and pipeline facilities necessary to transport natural gas from the well heads in the Oklahoma Basin and Gulf of Mexico to the burner tip of your house's furnace and hot water heater," according to Lajiness. "This is a great opportunity to demonstrate how SSOE can help the gas industry."
About SSOE Group
As a Top 10 Engineering / Architecture firm for the past 5 years, SSOE Group focuses on delivering Great Client Service to clients through a full range of project delivery solutions. They have been named a "Great Workplace" (Great Place to Work®) and one of the "Best AEC Firms to Work For" (Building Design + Construction).
With more than 20 offices around the world, SSOE is known for making its clients successful by saving them time, trouble, and money. Over the company's 65+ year history, it has earned a reputation for providing quality project solutions to semiconductor, automotive, food, chemical, glass, manufacturing, healthcare, power, and general building industries—with projects completed in 40 countries. Visit www.ssoe.com for additional information and career opportunities.
Media Contact:
Jenni Roder
(419) 469-1918
(419) 351-6480 cell
jroder@ssoe.com
You can follow any responses to this entry through the RSS feed. Responses are currently closed, but you can trackback from your own site.