Two SSOE BIM Experts to be Featured at Autodesk University 2012 in Las Vegas, Nevada
Collier and LaBell to present "A Dissection of the USACE BIM Requirements and PxP" and "Go Mobile with Your Projects: A Panel Discussion"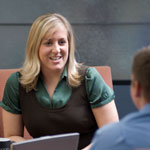 Las Vegas, NV, November 9, 2012 – SSOE Group (www.ssoe.com), a global engineering, procurement, and construction management (EPCM) firm, announced today that Lauren Collier, Associate AIA, BIM/CAD Technical Leader and Mark LaBell, BIM/CAD Technical Specialist, both of SSOE, have been selected to present at the 2012 Autodesk University Conference. Collier will be presenting in conjunction with the United States Army Corps of Engineers (USACE), while LaBell will be co-hosting a panel session focused on mobile application integration with current design "cloud" computing and storage.
The joint presentation by Collier and USACE representatives titled, "A Dissection of the USACE BIM Requirements and PxP" will include an in-depth exploration of Building Information Modeling (BIM) and deliverable requirements for BIM-based projects. This presentation will discuss the collaborative development of the USACE BIM contract language, discuss requirements, list deliverables, and explain the USACE BIM project execution plan (PxP) template. Attendees will gain knowledge on the history, intent, and correct implementation of the PxP template as well as discover best practices for implementing BIM-based project delivery.
As a BIM/CAD Technical Leader at SSOE, Collier is actively involved in new software implementation and improved utilization of existing technologies. In January 2012 she was appointed to the USACE BIM Advisory committee and played a significant role in the development of the new project deliverable standards for BIM applications. To learn more about the committee and its objectives, visit: link to release.
LaBell will provide insight as a panelist for the discussion titled, "Go Mobile with Your Projects". This session will bring together a group of four panelists from different organizations to discuss ways businesses have deployed tools, apps, and file access via mobile devices. Pros and cons of a number of software programs will be explored along with the challenges users could face while working with mobile tools. Attendees will have a chance to ask questions and contribute to the discussion to develop a further understanding of the tools available and how to best utilize them.
LaBell is a user and customization expert in 3D CAD software with more than 15 years of experience. As a BIM/CAD technical specialist, LaBell provides support and training to employees with the overall goal of maintaining a sound and practical user environment.
The Autodesk University annual conference and exhibition will take place November 27-29, 2012 at the Mandalay Bay Convention Center in Las Vegas, Nevada and offers a forum for design professionals around the world to attend educational sessions, product demonstrations, and networking. Attendees can participate in collaborative problem solving, idea sharing, and engage in new professional relationships.
Both Collier and LaBell are scheduled to present on Wednesday, November 28th at 8:00 am and 3:00pm respectively. For more information and to register for the conference, please visit:
http://au.autodesk.com/?nd=au_las_vegas_2012
About SSOE Group
As a Top 10 Engineering / Architecture firm for the past 5 years, SSOE Group focuses on delivering Great Client Service to clients through a full range of project delivery solutions. They have been named a "Great Workplace" (Great Place to Work®) and one of the "Best AEC Firms to Work For" (Building Design + Construction).
With more than 20 offices around the world, SSOE is known for making its clients successful by saving them time, trouble, and money. Over the company's 65+ year history, it has earned a reputation for providing quality project solutions to semiconductor, automotive, food, chemical, glass, manufacturing, healthcare, power, and general building industries—with projects completed in 40 countries. Visit www.ssoe.com for additional information and career opportunities.
Media Contact:
Jenni Roder
(419) 469-1918
(419) 351-6480 cell
jroder@ssoe.com
You can follow any responses to this entry through the RSS feed. Both comments and pings are currently closed.
Tagged advanced-technologies-feature, design-technology-feature