AMP's Newsroom: AMP Unveils Cutting-edge Solar Facility at Ribbon Cutting Ceremony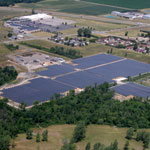 American Municipal Power (AMP) recently announced the unveiling of their new Solar Facility in Napoleon, Ohio. SSOE provided AMP with a comprehensive analysis of options for its first solar array and was responsible for all design and engineering for the project which has more than 17,000 solar panels. The facility will be connected to the City of Napoleon's electric system, providing transmission savings and benefiting the state of Ohio as well as the immediate region.
To read the full release from AMP, click here.
You can follow any responses to this entry through the RSS feed. Both comments and pings are currently closed.
Tagged alternative-energy-feature, Design Feature, energy-consulting-feature, power-feature