BrazenCareerist.com Article: "Recruit Smarter By Delving Deeper Into the Behavioral Interview"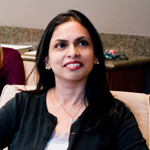 Senior Recruitment Leader, Deepa Barve, is featured in a recent article on BrazenCareerist.com. The article focuses on how to conduct a successful behavioral interview and offers tips to help recruiters ask the right questions, and more importantly, determine what to do with the answers to make the interview count.
To read the full article, click here.
You can follow any responses to this entry through the RSS feed. Both comments and pings are currently closed.