Building Design + Construction Magazine: "Electronic Power Tool Builds Project Transparency"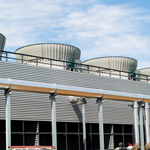 SSOE is mentioned in this article by Building Design + Construction magazine discussing ways for building teams to utilize new online tools for complex project document management. SSOE and partners employed relatively new collaboration software, "MySmartPlans" to deliver the National Nuclear Security Administration's (NNSA) Campus on time and on budget.
To read the full article, click here.
You can follow any responses to this entry through the RSS feed. Both comments and pings are currently closed.