Construction Executive Magazine Article: "Good Things Flow From a Refined Work Breakdown Structure"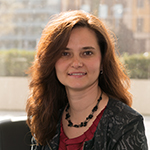 Jenny MacLeod, Department Manager and Senior Associate at SSOE Group, was published in Construction Executive Magazine in an article discussing the work breakdown structure (WBS) and the significant role it plays in project strategy, planning, and maintaining control of a construction contract. The WBS is a valuable tool in the conceptual stage of a project, continuing through execution — with the potential to serve as a support document in the preparation of future projects as well. Continually refined, it can aid in displaying cost trends, providing measurability, and securing the budget.
To read the full article, click here.
You can follow any responses to this entry through the RSS feed. Both comments and pings are currently closed.
Tagged construction-feature, procurement, procurement-feature, project-and-program-management-feature