Food Engineering Magazine Article: "Safeguard Your Brand with Process Control"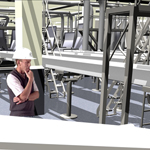 SSOE's Senior Project Manager, Jim Shortridge, is interviewed for Food Engineering Magazine's January 2013 article on using process controls to increase food safety. Within, Shortridge provides insight on the relationship of food quality to food safety, current utilization of technology and software, as well as suggestions for process control improvements for food manufacturers.
To read the full article, click here.
You can follow any responses to this entry through the RSS feed. Both comments and pings are currently closed.