Food Manufacturing Magazine Article: "The Food Industry's Oyster"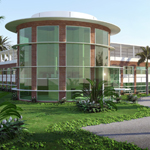 This article profiles Pearl City Food Port, a special economic zone (SEZ) created by CCCL Chennai, India, and master planning by SSOE. The SEZ will have more than 20 food manufacturing plants, as well as an entire community where employees reside. The community is currently in the marketing phase.
Click here to read this article
You can follow any responses to this entry through the RSS feed. Responses are currently closed, but you can trackback from your own site.