Food Manufacturing Magazine Article: "Virtual Assurance"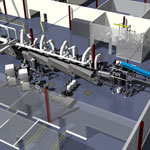 In this Food Manufacturing article, SSOE's Joe Badalamenti, PE, PMP, discusses how Kellogg Company uses 3D modeling to help guide the construction of facilities that must integrate various pieces of equipment from a variety of vendors.
Click here to read this article
You can follow any responses to this entry through the RSS feed. Responses are currently closed, but you can trackback from your own site.