Forbes INSIGHTS Article: "The Talent Imperative"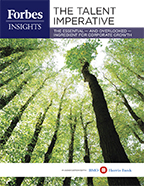 Tony Damon, CEO and Brad Rowe, HR Business Leader for Talent Acquisition at SSOE were interviewed for FORBES MAGAZINE INSIGHTS latest study conducted on Talent Management. The study is based on a survey completed by more than 300 executives at private companies in the U.S. in February, 2013. Within, Damon and Rowe discuss key recruitment challenges for private companies and elaborate on how SSOE's career progression model has fostered employee development – leading to increased retention rates.
To read the full article, click here.
You can follow any responses to this entry through the RSS feed. Both comments and pings are currently closed.