Health Facilities Management Magazine Article: "Saving Money by Selecting the Right Finishes"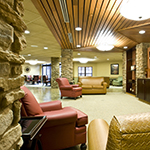 Lynne Gochenour, Senior Interior Designer at SSOE, highlights the importance of selecting the right interiors for health care facilities. A welcoming and friendly atmosphere attracts patients and has a direct relation to customer satisfaction. The key issue most facilities face is balancing an attractive environment with budget constraints. Gochenour outlines cost-effective measures health care facilities can take in order to find the right balance in Health Facilities Management Magazine's September 2013 issue.
To read the full article, click here.
You can follow any responses to this entry through the RSS feed. Both comments and pings are currently closed.