Laboratory Design Magazine Article: "Enhancing Lab Sustainability with Energy Audits and Master Planning"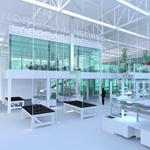 SSOE's Zach Platsis, Sustainable and Renewable Solutions Specialist, explains how energy audits and a strong master plan equates with an energy efficient, sustainable process for lab facilities.
Click here to read this article
You can follow any responses to this entry through the RSS feed. Responses are currently closed, but you can trackback from your own site.