LD+A Magazine Article: "Twists and Turns Towards LEDs"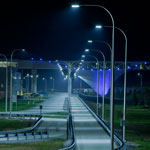 SSOE's Aaron Albright, LC, IESNA is featured in Lighting Design and Application (LD+A) magazine's August 2012 issue. The article discusses the many LED components that were a part of the design for Volkswagen's Chattanooga automotive assembly plant.
Click here to read the full article (see page 49).
You can follow any responses to this entry through the RSS feed. Both comments and pings are currently closed.
Tagged automotive-feature, construction-feature, Design Feature