Licensed Architect Magazine: SSOE highlighted in "Featured Architect" section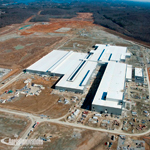 SSOE Group highlight in Licensed Architect's "Featured Architect" section, Spring 2010 issue. Projects featured are Volkswagen Group of America, Automotive Production Facility; The University of Toledo, North Engineering Lab; and Mercy Tiffin Hospital, New Hospital and Medical Office Building.
You can follow any responses to this entry through the RSS feed. Both comments and pings are currently closed.