Medical Construction & Design Magazine Article: "DO IT LIVE / Modifying electrical infrastructure while maintaining hospital operations"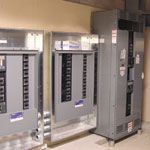 SSOE Group's Jeff Bodway and Dan Meloche discuss how to modify or service a hospital building's electrical system while maintaining hospital operations and how the impact of a planned shutdown on patients, staff, and visitors can be minimized.
Click here to read this article »
You can follow any responses to this entry through the RSS feed. Both comments and pings are currently closed.