Pharmaceutical Manufacturing Magazine Article: "Four Keys to Effective Raw Material Containment"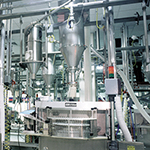 Business Leader and Master Engineer, Mark Hoffman, is featured in Pharmaceutical Manufacturing Magazine's November 2013 issue in an article highlighting solutions to protect raw bio materials in storage and conveyance. Within, Hoffman expands upon what he considers to be the four key components to assuring a well-designed bulk material storage and handling environment.
To read the full article, click here.
You can follow any responses to this entry through the RSS feed. Both comments and pings are currently closed.
Tagged food-feature, general-manufacturing-feature, pharmaceutical-feature, science-and-technology-feature