The New York Times Article: "The Boss Column – Have a Plan in Hand"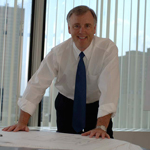 SSOE's CEO Tony Damon is profiled in the Sunday Business Section of The New York Times' "The Boss" column. This article explains the roots of his interest in architecture, the history of his homestead, and the wisdom of a plan.
Click here to read this article
You can follow any responses to this entry through the RSS feed. Both comments and pings are currently closed.