Posted October 10, 2016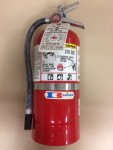 Inspection Certification
Fire extinguishers must be certified annually in accordance with local, state, and national codes and regulations. This is a thorough examination by a licensed Fire Extinguisher Inspector. The certification process requires inspectors to verify the extinguisher is fully pressurized, free from damage, and weighed appropriately. Annual inspections also require a pull test on the pin and seal replacement—this must be verified with a dated inspection tag. If the extinguisher fails to meet these requirements, it must be replaced.
Fire Extinguisher Testing
The National Fire Protection Agency (NFPA) recommends that extinguishers should be tested every six years or twelve years, depending on the type of extinguisher. Continue reading →