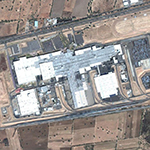 Coordinating standards set by General Motors' Global Facilities Group with the local design and construction standards of the actual plant in Silao, Mexico was a challenge that could have proved costly for General Motors. Without careful communication and teamwork, extensive redesign efforts could have been required to comply to all codes. SSOE's understanding of General Motors' Global Facilities Standards, as well as the local design and construction methods, provided a smooth incorporation of design into construction.
Continue reading this profile →
When a major food manufacturer sought to add production capacity through the addition of a second Ready to Spread (RTS) frosting line, it looked to SSOE to provide the same high quality engineering services it had provided on the original RTS line installation more than 20 years prior. SSOE provided complete EPCM project delivery for the line, raw ingredients to finished product warehouse, and repurposed existing warehouse areas. The project was slated for completion in just 13 months.
As an industry leader in design technology, SSOE employed Virtual Design and Construction (VDC) to deliver a construction strategy that pulled critical path activities forward, allowing maximum time for process design.