SSOE offers the range of talents and depth of experience to excel on projects that require regulatory approvals and design. We can deploy our team to multiple sites nationwide or limit our scope to a single wireless site.
When you need a creative approach to finding the optimal location, we're able to help. Our team employs industry best practices so you can trust the project will go smoothly. Our goal is simple: to provide you with the best solution for your unique needs and build a relationship with you that earns your future business.
Contact Us
Interested in learning more about our wireless systems experience and services?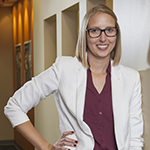 Get in touch with SSOE's Michelle Kang, Section Manager, Telecom, to request additional information. Email mkang@ssoe.com or call 615.309.1397.