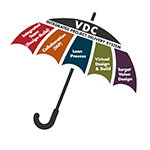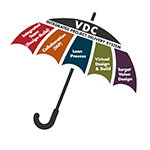 As we've discussed in previous updates, VDC represents a fundamental change in how the AEC industry executes projects. Adopting VDC throughout an entire industry will not be a simple or fast process, and as with anything new there is a learning curve. However, there is strong evidence to support the substantial benefits for our clients—even with the learning curve assumed—so it's a direction we must be headed.
In the short term, how do you know if your project is a good candidate for VDC? To help answer that question, SSOE has put together some criteria for what kinds of clients and projects are likely to become early adopters of VDC.
Side Note
Before we lay out these criteria for you, it is worth noting that while our VDC approach will start off in a focused manner, adopting the philosophies, processes, and capabilities that make up VDC (strategies like integrated teams, Interactive Planning Sessions (IAPs) to drive collaborations, lean processes, virtual design & build, and target value design) will benefit a broad range of projects—including those executed under more traditional delivery models. In other words, while your specific project may not be executed under a pure VDC delivery model, you can be sure that SSOE's leadership in this area will still bring benefits to your projects.
Is VDC right for your next project?
As a tailored approach that takes the specific needs of a project into account, VDC can bring benefits to every project. However as the industry adjusts to a new way of doing things, there are certain types of clients or projects that may initially be the most comfortable with this approach.
Does your company have costly and/or complex facility and process needs? These types of projects represent the most immediate opportunities for VDC because the performance benefits are most significant.
Does the product or service you provide have a very short product life cycle that has created in a culture of innovation and an openness to changing the standard approach in order to achieve results?
Are your current challenges and business drivers (e.g. driving down cost, challenging schedules, low tolerance for errors) so significant that the unknowns of a new approach are worth the potential reward?
Another important consideration is trust and your desire for input. Because of the high level of collaboration required to make VDC projects successful, a close relationship between the various parties of the project team can greatly enhance the outcome. Does the idea transitioning from a back and forth review process to a collaborative relationship with the design / construction team appeal to you? Do you prefer, or are you open to, integrated delivery approaches?
It's the results…
It's interesting to note that in one of SSOE's earliest VDC success stories, the client never even heard the term "VDC." The client had a clear list of business drivers with challenging requirements that involved schedule compression. Rather than proposing "VDC" SSOE simply presented the execution strategy that would allow them to achieve their goals, while others following a more traditional approach could not meet the challenging criteria. In the end, it's not about VDC, but rather delivering a solution that helps you meet your most challenging goals.
Return to SSOE's VDC Blog page >>
https://www.ssoe.com/wp-content/uploads/2015/02/150x150_SSOE_how-do-i-know-if-VDC-is-right-for-me.png
150
150
hitch
http://www.ssoe.com/wp-content/uploads/2018/05/logo_ssoe.png
hitch
2015-02-16 13:31:51
2018-06-12 17:28:08
How Do I Know if VDC is Right for Me?